front page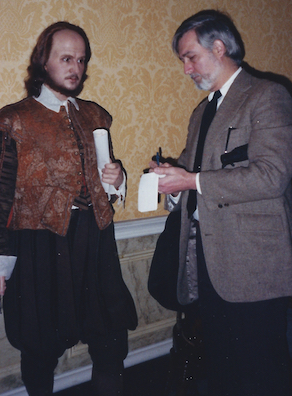 A Shakespeare Congress
Global gathering celebrates the Bard
---
"So, good night unto you all." Tonight (September 24), the words of Puck (played by actress Sarah Roa) will bring A Midsummer Night's Dream, as well as the 2022 season of the Bard on the Beach Festival, to an end. Founded in 1990, the summertime celebration of Shakespeare was much missed during a two-year hiatus brought about by the COVID-19 pandemic. Yet again, I am reminded of the special place Stratford-on-Avon's favourite son has had in my Vancouver memories since 1971. That year, for eight amazing days, the city played host to the first World Shakespeare Congress, the midsummer dream of Simon Fraser University professor Rudolph Habenicht. Recognizing its importance, The Province offered daily coverage of the proceedings, recalled in this ten-feature Reeling Back package. My reporting of the event began with this comprehensive WSC Preview feature. It includes an overview of how the Congress came to be, along with five themed items looking at its non-academic incidental programming.

← FULL SITE INDEX

local news

The lights are on again

Promising to make art its specialty

---




comics page

Out of the woods

Astonished by a perfect sphere's arrival

---




entertainment

The value of simplicity

Summing up a legend's life lessons

---




editorials

Comics, a cool medium

My Blog; Your Guide to What's New

---



Byline
REVIEWING CITIZEN WALSH
A DECLARATION OF PRINCIPLES
---
Reelingback.com
is the Internet address of
Michael Walsh
, a Canadian living in Vancouver, British Columbia.
I spent my working life as a newspaperman. While others covered the waterfront, I specialized in movies. As a film critic, I published my views in newspapers and magazines, on radio and television, at conferences, conventions and in the occasional courtroom. It was my good fortune to cover 30 of the most exciting, innovative years in screen history (1965-1995).
Retired, but not inactive, I've launched Reeling Back in in order to recall and, perhaps, make sense of it all. Eventually, it will grow into an archive of the nearly 6,000 films I've reviewed to date. Because everything old is news again, each posting will include a note connecting these particular movie memories to the here and now.

And, yes, I intend Reeling Back to offer new material, including web-log commentary, reviews of current pop culture and additions to my own "works in progress" — four book-length projects still in the notebook phase.

From Will Shakespeare to Marshall McLuhan to Joss Whedon, the great thinkers have all reminded us that we live in a world of wonders. In this small corner of cyberspace, I'd like to share some of the wonders that I have seen.