front page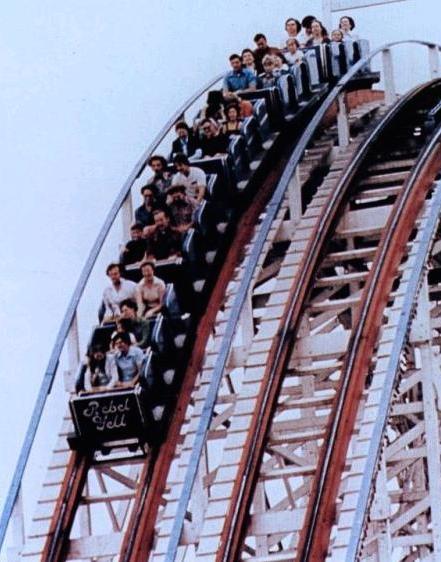 Kills added to the thrills
Homegrown terrorist does it for dollars
---
On this day (August 16) in 1898, the U.S. Patent Office granted Massachusetts inventor Edwin Prescott a patent for a "railway chiefly for pleasure" that he called a "Roller-Coaster." Though he was hardly the first to design or build such a device, he seems to have been the first to register the name. And that's why scream machine fans around the world celebrate this date as Rollercoaster Day. Sixty years later in Vancouver, a crew of some 300 craftsmen built The Coaster on the grounds of the city's Pacific National Exhibition. Designed by Seattle-based Carl Phare and assembled under the supervision of Walker LeRoy using lumber milled from local Douglas Fir trees, it opened in 1958. Canada's oldest roller-coaster still in service, it stands 23 metres tall (75 feet), and the 865-metre (2,840-foot) ride takes about 90 seconds. Since it opened, some 25 million Playland visitor have taken the plunge without a single recorded fatality or serious injury. In 2009, our wooden roller coaster became one among only 38 rides in the world to receive a Coaster Landmark Award from the non-profit American Coaster Enthusiasts organization. Coming up on its diamond jubilee year, it is considered by many to be among the top 10 of its kind on the planet. Understandably, today's Reeling Back movie has to be director James Goldstone's 1977 thriller Rollercoaster.

← FULL SITE INDEX

local news

Waking to a nightmare

Exploring feminism's consequences

---

A state of emergency remains in effect in British Columbia today (August 15) as the west coast province experiences its most destructive summer of wildfires since 1958. The situation brings to mind the title of a B.C.-made movie from 1993, director Harvey Crossland's Indo-Canadian drama The Burning Season.





comics page

On a collision course

Couples sharing an heir of danger

---

Though he was known as "the master of suspense," the introductions that Alfred Hitchcock shot for his 10-season television series showed him to be a king of comedy. Born on this day (August 13) in 1899, the director left movie audiences laughing with his final feature, 1976's Family Plot.





entertainment

Watching the watchers

Narrator's voice has a built-in pant

---

First broadcast on this day (August 10) in 1948, Allen Funt's Candid Camera was the first TV show to turn public embarrassment into mass entertainment. The kind of material he couldn't put on television was used in his 1970 feature film, What Do You Say to a Naked Lady?





editorials

Estrogen explosion

My Blog; Your Guide to What's New

---

The popular culture is a moody creature. Over the years I've seen genres rise and fall — science fiction now rules where the western was once king — and important new ideas emerge to drive the narrative. I believe that a major theme in movies today is women's anger.




Byline
REVIEWING CITIZEN WALSH
A DECLARATION OF PRINCIPLES
---
Reelingback.com
is the Internet address of
Michael Walsh
, a Canadian living in Vancouver, British Columbia.
I spent my working life as a newspaperman. While others covered the waterfront, I specialized in movies. As a film critic, I published my views in newspapers and magazines, on radio and television, at conferences, conventions and in the occasional courtroom. It was my good fortune to cover 30 of the most exciting, innovative years in screen history (1965-1995).
Retired, but not inactive, I've launched Reeling Back in in order to recall and, perhaps, make sense of it all. Eventually, it will grow into an archive of the nearly 6,000 films I've reviewed to date. Because everything old is news again, each posting will include a note connecting these particular movie memories to the here and now.

And, yes, I intend Reeling Back to offer new material, including web-log commentary, reviews of current pop culture and additions to my own "works in progress" — four book-length projects still in the notebook phase.

From Will Shakespeare to Marshall McLuhan to Joss Whedon, the great thinkers have all reminded us that we live in a world of wonders. In this small corner of cyberspace, I'd like to share some of the wonders that I have seen.