front page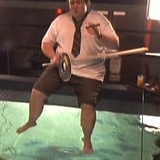 Submarine secret shared
Mythic maiden inspires movie magic
---
For a time, he seemed to be everywhere. All the best directors wanted a taste of Candy to sweeten their A-budget projects. Steven Spielberg's Second World War comedy 1941 (1979), John Landis's manic musical Blues Brothers (1980), Frank Oz's shock musical Little Shop of Horrors (1986), Mel Brooks's Star Wars parody Spaceballs (1987), even Oliver Stone's alternative history JFK (1991) — they all feature Canadian comic John Candy in small but showy roles. Candy, born on this day (October 31) in 1950, was part of the creative collective that wrote and performed in the six-season SCTV series (1976-1984). A big man (Candy stood six feet, three inches and weighed in at about 300 lbs.), he used his size to great comic effect. Occasionally, in a film such as Chris Columbus's Only the Lonely (1991), he achieved romantic pathos. He was at his best, though, as a supporting player, in gormless sidekick roles such as Tom Tuttle (opposite Tom Hanks in 1985's Vounteers) or Del Griffith (opposite Steve Martin in 1987's Planes, Trains and Automobiles). Today Reeling Back remembers Candy as Freddie Bauer, his first pairing with Hanks, in director Ron Howard's sweet-tempered mermaid fantasy from 1984, Splash.

← previous articles

local news

Looking for Mr. Nutbar

Future cops battle bad 'bots

---

Born on this day (October 23) in 1942, the multi-talented Michael Crichton wrote best-selling novels — he's considered the father of the techno-thriller — and directed science-fiction films, including the 1984 future-cop feature Runaway, shot on location in Vancouver.





comics page

Cat in tune with times

Comix with a deranged Disney look

---

Though the artists did not see eye to eye on the result, adult animation pioneer Ralph Bakshi, born on this day (October 29) in 1938, made cartoon history with his feature adaptation of underground comics pioneer Robert Crumb's most famous character, Fritz the Cat (1972).





entertainment

B.C. gets Klondike Fever

London-born producer a London buff

---

During the 1979 filming of the feature film Klondike Fever, the prolific British-born producer Harry Alan Towers sat down with me in Vancouver to discuss its subject, author Jack London, and the perils of international co-productions.





classified

Change in the air

My Blog; Your Guide to What's New

---

Author-activist Naomi Klein will be in Vancouver on Sunday (October 26) to give a free lecture in UBC's Chan Centre on the subject of capitalism versus the climate. Hundreds of people were lined up at noon Tuesday (October 21) for advance tickets to the early evening event.




Editorial
REVIEWING CITIZEN WALSH
A DECLARATION OF PRINCIPLES
---
Reelingback.com
is the Internet address of
Michael Walsh
, a Canadian living in Vancouver, British Columbia.
I spent my working life as a newspaperman. While others covered the waterfront, I specialized in movies. As a film critic, I published my views in newspapers and magazines, on radio and television, at conferences, conventions and in the occasional courtroom. It was my good fortune to cover 30 of the most exciting, innovative years in screen history (1965-1995).
Retired, but not inactive, I've launched Reeling Back in in order to recall and, perhaps, make sense of it all. Eventually, it will grow into an archive of the nearly 6,000 films I've reviewed to date. Because everything old is news again, each posting will include a note connecting these particular movie memories to the here and now.

And, yes, I intend Reeling Back to offer new material, including web-log commentary, reviews of current pop culture and additions to my own "works in progress" — four book-length projects still in the notebook phase.

From Will Shakespeare to Marshall McLuhan to Joss Whedon, the great thinkers have all reminded us that we live in a world of wonders. In this small corner of cyberspace, I'd like to share some of the wonders that I have seen.