front page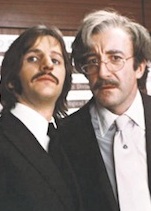 Voyage of the damnable
Making the most of an awful muddle
---
"The job of the artist," Marshall McLuhan told us in 1973, "is to upset all the senses, and thus provide new vision and new powers of adjusting to and relating to new situations." Sixteen days from now (Thursday, December 12) British voters go to the polls in an election likely to mark the end of "Great" Britain. True to their McLuhanian task, artists have been warning of just such a decline for decades. On this day (November 26) in 1976, the Sex Pistols released their debut single "Anarchy in the U.K.", launching the musical movement known as punk rock. If the Beatles, all born during the Second World War, embodied their era's optimism, the Boom Generation's Pistols (all born in the mid-1950s) represented pop cultural pessimism. While Americans were celebrating their bicentennial, the English were shaken by race riots at the Notting Hill Carnival, a fixture from the days of "Swinging London." There are those who would argue that the United Kingdom that came together in 1706 will soon join the British Empire as an historic memory. Artists, for all their insights, are an inward-looking lot. Not surprisingly, their stories are often self-absorbed, much like the four unmistakably English films being added today to the Reeling Back archive (with links to each following the Afterword to this posting). Director Joseph McGrath mounts an over-the-top satirical attack on aristocratic privilege and the decline of the empire in his 1969 adaptation of Terry Southern's The Magic Christian.

← FULL SITE INDEX

local news

Praising Pyrrhic protest

People aware that the WTO is bad

---




comics page

Enter a state of madness

Chaos has to be seen to be believed

---




entertainment

Reflecting on a dirty war

Truth put ahead of blissful ignorance

---




editorials

A bike ride to remember

My Blog; Your Guide to What's New

---



Byline
REVIEWING CITIZEN WALSH
A DECLARATION OF PRINCIPLES
---
Reelingback.com
is the Internet address of
Michael Walsh
, a Canadian living in Vancouver, British Columbia.
I spent my working life as a newspaperman. While others covered the waterfront, I specialized in movies. As a film critic, I published my views in newspapers and magazines, on radio and television, at conferences, conventions and in the occasional courtroom. It was my good fortune to cover 30 of the most exciting, innovative years in screen history (1965-1995).
Retired, but not inactive, I've launched Reeling Back in in order to recall and, perhaps, make sense of it all. Eventually, it will grow into an archive of the nearly 6,000 films I've reviewed to date. Because everything old is news again, each posting will include a note connecting these particular movie memories to the here and now.

And, yes, I intend Reeling Back to offer new material, including web-log commentary, reviews of current pop culture and additions to my own "works in progress" — four book-length projects still in the notebook phase.

From Will Shakespeare to Marshall McLuhan to Joss Whedon, the great thinkers have all reminded us that we live in a world of wonders. In this small corner of cyberspace, I'd like to share some of the wonders that I have seen.