front page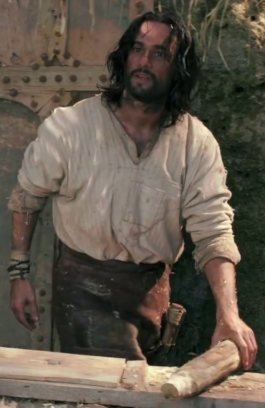 Not your father's Jesus
Sanctimony with a veneer of spectacle
---
Now in theatres in a 3D version, Ben-Hur is the latest screen adaptation of the best-selling American novel of the 19th century. Never out of print since its publication in 1880, Lew Wallace's book is subtitled A Tale of the Christ, a reminder of who its real hero is. That, in turn, reminds us of the many actors who have played Jesus on screen since the coming of sound. Among the more memorable: Jeffrey Hunter's clean-cut American portrayal in director Nicholas Ray's King of Kings (1961); Max Von Sydow offering a touch of European angst in George Stevens's The Greatest Story Ever Told (1965); Robert Powell, unblinkingly English in Franco Zeffirelli's 1976 TV mini series Jesus of Nazareth; Willem Dafoe, gritty and human in Martin Scorsese's The Last Temptation of Christ (1988); and Jim Caviezel's seriously tortured Saviour in Mel Gibson's The Passion of the Christ (2004). The rock generation introduced musical messiahs, with Ted Neely singing the title role in Norman Jewison's Jesus Christ Superstar and Canadian Victor Garber assuring us it was "All for the Best" in David Greene's Godspell (both 1973). Turning back the clock is the carpenter we met on Friday. Born on this day (August 22) in 1975, Brazilian actor Rodrigo Santoro offers a motivational speaker's version of redemption in director Timur Bekmambetov's current Ben-Hur.

← FULL SITE INDEX

local news

Participational policing

Second helping just a little different

---

Director John Badham's first working visit to Vancouver was to make the 1987 action comedy Stakeout, the story of two likeably inept Seattle cops assigned to surveillance duty. Born on this day (August 25) in 1939, Badham returned to make the 1993 sequel, Another Stakeout





comics page

Genius of the system

Washington a city of broken dreams

---

On this day (August 28) in 1963, Martin Luther King Jr. made history with the words "I have a dream," spoken to an audience of over 250,000 in Washington, D.C. The political reality King challenged was the subject of satire in director Jonathan Lynn's The Distinguished Gentleman (1992).





entertainment

Breathtaking landscapes

Surrounding us with natural beauty

---

The 32nd item in Reeling Back's 38-part series recalling the cinema of Vancouver's Expo 86 reviews Portraits of Canada, the Circle-Vision 360 movie produced by Walt Disney and presented in the Telecom Canada pavilion.





editorials

Death to dust bunnies!

My Blog; Your Guide to What's New

---

When computers work, they're wonderful. On occasion, though, they go slowly, or do things that are as maddening as they are incomprehensible. Last week was one of those times, and I had to put Reeling Back on hold and pay a visit to some tech folk who did what needed doing.




Byline
REVIEWING CITIZEN WALSH
A DECLARATION OF PRINCIPLES
---
Reelingback.com
is the Internet address of
Michael Walsh
, a Canadian living in Vancouver, British Columbia.
I spent my working life as a newspaperman. While others covered the waterfront, I specialized in movies. As a film critic, I published my views in newspapers and magazines, on radio and television, at conferences, conventions and in the occasional courtroom. It was my good fortune to cover 30 of the most exciting, innovative years in screen history (1965-1995).
Retired, but not inactive, I've launched Reeling Back in in order to recall and, perhaps, make sense of it all. Eventually, it will grow into an archive of the nearly 6,000 films I've reviewed to date. Because everything old is news again, each posting will include a note connecting these particular movie memories to the here and now.

And, yes, I intend Reeling Back to offer new material, including web-log commentary, reviews of current pop culture and additions to my own "works in progress" — four book-length projects still in the notebook phase.

From Will Shakespeare to Marshall McLuhan to Joss Whedon, the great thinkers have all reminded us that we live in a world of wonders. In this small corner of cyberspace, I'd like to share some of the wonders that I have seen.