front page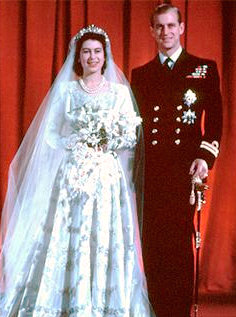 It's not pork, it's power!
Appetite for position, protein laid bare
---
Officially, Britons celebrate the birthday of their Queen on the second Saturday of June. In fact, Elizabeth Alexandra Mary Windsor was born on this day (April 21) in 1926. The longest-reigning monarch in the history of the United Kingdom, Elizabeth II not only enjoys two birthdays, but two parallel movie careers. Since 1971, at least 15 actresses have played Her Majesty in big screen films. The most memorable to date has been Helen Mirren, who took home the 1966 best actress Oscar for her performance in the title role of director Stephen Frears's The Queen. More than 30 others have taken on the regal role on various TV productions (notably Emma Thompson in 2012). Celebrity look-alike Jeannette Charles made a living of it, appearing in some 25 features, made-for-TV movies and series episodes since 1974. Ms Charles has been featured opposite a number of Elizabeth's Canadian subjects, such as Leslie Nielsen (1988's The Naked Gun) and Mike Meyers (2002's Austin Powers in Goldmember). Elizabeth II's other film career began in 1939, when Alexander Korda included newsreel footage of the teenaged princess in his patriotic drama The Lion Has Wings,. To date, more than 300 documentarists and fictional filmmakers have made use of the endless images of her very public life. In 1984, director Malcolm Mowbray included scenes of her 1947 royal wedding in his period comedy A Private Function.

← FULL SITE INDEX

local news

Heavenly daze

Smitty does well by doing good

---

Honoured as the First Lady of Canadian Theatre, Frances Hyland enjoyed a career full of firsts on stage, in motion pictures and on television. Born on this day (April 25) in 1927, Hyland's second feature film role was in writer-director Thomas Shandel's Vancouver-made social satire Another Smith for Paradise.





comics page

Little things that matter

Big adventure crossing the backyard

---

Best known as a team player, Rick Moranis came to fame as SCTV's iconic Canadian, Bob McKenzie. Born on this day (April 18) in 1953, he lent his comic talents to the Ghostbusters and became a Disney dad in director Joe Johnston's 1989 fantasy Honey, I Shrunk the Kids.





entertainment

We did it our way

Approach suits the Canadian spirit

---

One way to mark National Canadian Film Day (April 19) is to take in a free screening of a made-in-Canada movie. Another is to learn more about filmmaking in this country, a subject first explored in detail by scholar Peter Morris, author of the ground-breaking 1978 history Embattled Shadows.





editorials

Knowing the write stuff

My Blog; Your Guide to What's New

---

Asked by the Canadian University Press co-operative to set out some rules for student arts reviewers, Toronto Star theatre critic Nathan Cohen offered great advice. Born on this day (April 16) in 1923, Cohen turned it into a 1964 column that I keep on my desk to this day.




Byline
REVIEWING CITIZEN WALSH
A DECLARATION OF PRINCIPLES
---
Reelingback.com
is the Internet address of
Michael Walsh
, a Canadian living in Vancouver, British Columbia.
I spent my working life as a newspaperman. While others covered the waterfront, I specialized in movies. As a film critic, I published my views in newspapers and magazines, on radio and television, at conferences, conventions and in the occasional courtroom. It was my good fortune to cover 30 of the most exciting, innovative years in screen history (1965-1995).
Retired, but not inactive, I've launched Reeling Back in in order to recall and, perhaps, make sense of it all. Eventually, it will grow into an archive of the nearly 6,000 films I've reviewed to date. Because everything old is news again, each posting will include a note connecting these particular movie memories to the here and now.

And, yes, I intend Reeling Back to offer new material, including web-log commentary, reviews of current pop culture and additions to my own "works in progress" — four book-length projects still in the notebook phase.

From Will Shakespeare to Marshall McLuhan to Joss Whedon, the great thinkers have all reminded us that we live in a world of wonders. In this small corner of cyberspace, I'd like to share some of the wonders that I have seen.