front page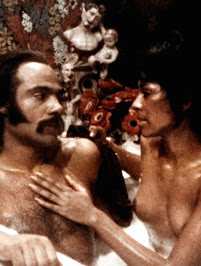 Neo-realistically viewed
Living the urban black American Dream
---
Family matters when it comes to maintaining interest in a movie franchise. Shaft, opening today (June 14) in the U.S. and Canada, offers three generations of the African-American crime-fighting clan. In the new picture, retired private detective John Shaft (Richard Roundtree) is revealed to be father (not the uncle) of practicing P.I. John Shaft II (Samuel L. Jackson), who is the father of John "J.J." Shaft (Jessie Usher), an F.B.I. special agent. Lest we forget, John Senior was the title character in director Gordon Parks's incendiary 1971 feature Shaft, one of the two urban action films that begat the "blaxploitation" movie genre. (The other was Melvin Van Peebles's independently-made Sweet Sweetback's Baadasssss Song.) Said to have saved the struggling MGM Studios from bankruptcy, Shaft was followed by Shaft's Big Score (1972) and Shaft in Africa (1973). There was even a short-lived Shaft TV series. All if them starred Roundtree. John Senior's nephew and namesake was the title character played by Jackson in Shaft, director John Singleton's 2000 franchise reboot. Today's reunion, directed by Tim Story, offers Reeling Back an opportunity to look back at some early blaxploitation pictures. The four films being added today (with links to each following the Afterword to this posting) include director Gordon Parks Jr.'s 1972 style-setting tale of an inner-city drug lord, Super Fly.

← FULL SITE INDEX

local news

Seeking a white knight

Settling for the strawberry Kool-Aid

---




comics page

Beyond the brain cloud

Heroically facing an eruption of reality

---




entertainment

In Secrecy's Service

Driven by his contradictory demons

---




editorials

Plans set, goals met

My Blog; Your Guide to What's New

---



Byline
REVIEWING CITIZEN WALSH
A DECLARATION OF PRINCIPLES
---
Reelingback.com
is the Internet address of
Michael Walsh
, a Canadian living in Vancouver, British Columbia.
I spent my working life as a newspaperman. While others covered the waterfront, I specialized in movies. As a film critic, I published my views in newspapers and magazines, on radio and television, at conferences, conventions and in the occasional courtroom. It was my good fortune to cover 30 of the most exciting, innovative years in screen history (1965-1995).
Retired, but not inactive, I've launched Reeling Back in in order to recall and, perhaps, make sense of it all. Eventually, it will grow into an archive of the nearly 6,000 films I've reviewed to date. Because everything old is news again, each posting will include a note connecting these particular movie memories to the here and now.

And, yes, I intend Reeling Back to offer new material, including web-log commentary, reviews of current pop culture and additions to my own "works in progress" — four book-length projects still in the notebook phase.

From Will Shakespeare to Marshall McLuhan to Joss Whedon, the great thinkers have all reminded us that we live in a world of wonders. In this small corner of cyberspace, I'd like to share some of the wonders that I have seen.