front page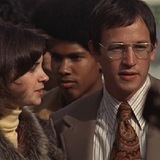 Trust for no one, nothing
Coppola puts surveillance under scrutiny
---
During an era of social upheaval, her screen characters were reassuringly normal and naturally nice. Born on this day (August 22) in 1947, Cindy Williams became famous playing the level-headed kid sister, or the perky, positive best friend. Her breakthrough role was Laurie Henderson, whose heart belonged to Steve Bolander (Ron Howard) in 1973's American Graffiti. Noting the huge audience for seemingly simpler times, TV producer Garry Marshall gave America Ron Howard as a teen enjoying life in the Happy Days of the late 1950s. It was there that Williams was first seen as Shirley Feeney, best friend of Laverne De Fazio (Penny Marshall). Their three episodes as guest stars became a seven-season partnership in Laverne & Shirley (1976-1982), a show in which they played bottle-cappers in Milwaukee's Shotz brewery, circa 1958. Often overlooked is Williams's work with two young artists who sought to bring change to Hollywood. Success eluded writer/director Bruce Kimmel, for whom Williams starred in 1976's The First Nudie Musical, and the even more obscure sci-fi musical comedy The Creature that Wasn't Nice (1981). Success was already assured for writer/director Frances Ford Coppola. He had two screenwriting Oscars on his shelf when he cast Williams to be the target of surveillance in his artistically daring 1974 feature, The Conversation.

← previous articles

local news

Artist's angst relieved

Back down a well-travelled path

---

Born on this day (August 20) in 1958, writer/director Patricia Rozema was a winner with her 1987 debut feature I've Heard the Mermaids Singing, but not her second, 1990's White Room.





comics page

Kara launch lacks logic

Girl of Steel more Disney than DC

---

In August 1958, 20 years after her comic-book cousin Kal-El's debut, Kara Zor-El took flight in Superman issue #123. "The Girl of Steel" then became a movie star, in the 1984 feature Supergirl.





entertainment

British film's victory lap

I'm taking it in my strides

---

In a telephone interview on the day prior to the 1982 Academy Awards, actor Ben Cross discussed training to play an Olympic athlete, being recognized by cab drivers in New York, and the "slightly unbelievable" success of the best picture Oscar winner Chariots of Fire.





classified

Culture on repeat play

My Blog; Your Guide to What's New

---

In his most recent column in the Vancouver Courier the ever-sharp satirist and social commentator Geoff Olson cites the dangers in "consuming the past instead of creating the new," offering some insights that made me question the very purpose of Reeling Back.




Editorial
REVIEWING CITIZEN WALSH
A DECLARATION OF PRINCIPLES
---
Reelingback.com
is the Internet address of
Michael Walsh
, a Canadian living in Vancouver, British Columbia.
I spent my working life as a newspaperman. While others covered the waterfront, I specialized in movies. As a film critic, I published my views in newspapers and magazines, on radio and television, at conferences, conventions and in the occasional courtroom. It was my good fortune to cover 30 of the most exciting, innovative years in screen history (1965-1995).
Retired, but not inactive, I've launched Reeling Back in in order to recall and, perhaps, make sense of it all. Eventually, it will grow into an archive of the nearly 6,000 films I've reviewed to date. Because everything old is news again, each posting will include a note connecting these particular movie memories to the here and now.

And, yes, I intend Reeling Back to offer new material, including web-log commentary, reviews of current pop culture and additions to my own "works in progress" — four book-length projects still in the notebook phase.

From Will Shakespeare to Marshall McLuhan to Joss Whedon, the great thinkers have all reminded us that we live in a world of wonders. In this small corner of cyberspace, I'd like to share some of the wonders that I have seen.