front page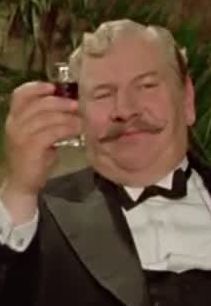 Belgian upstart prevails
Projecting palatable personal warmth
---
"Art has to be national to be international," Peter Ustinov once told a late night chat-show host in Toronto. I heard him say it on this day (November 21) in 1962, and immediately scribbled down the quote, the program's name (Midnight Zone), and the date. His words struck a chord with my own nascent nationalism and, later, nicely summarized the thinking behind the creation of an annual World Television Day by the United Nations. Marked on November 21 since 1997, it focuses on the broadcast medium's power to educate, illuminate and promote international understanding. Celebrated as an actor, author, raconteur and humanitarian, the London-born Ustinov was a lifelong internationalist, who promoted his values with insight and wit. Knighted by Her Majesty in 1990, the year he assumed the presidency of the World Federalist Movement, Sir Peter was a welcome presence on stage and screen for some six decades. Today, I'm adding reviews of four of his feature films to my Reeling Back archive (with links to each following the Afterword to this posting), a package that includes Ustinov's debut as Agatha Christie's fussy Belgian detective Hercule Poirot, in director John Guillermin's 1978 feature Death on the Nile.

← FULL SITE INDEX

local news

Running out of options

Young stars already past their prime

---




comics page

Show taken on the road

Lots of heart along with authentic soul

---




entertainment

Negotiating minefields

Not about to give up on art or craft

---




editorials

Imagine a silicon screen

My Blog; Your Guide to What's New

---



Byline
REVIEWING CITIZEN WALSH
A DECLARATION OF PRINCIPLES
---
Reelingback.com
is the Internet address of
Michael Walsh
, a Canadian living in Vancouver, British Columbia.
I spent my working life as a newspaperman. While others covered the waterfront, I specialized in movies. As a film critic, I published my views in newspapers and magazines, on radio and television, at conferences, conventions and in the occasional courtroom. It was my good fortune to cover 30 of the most exciting, innovative years in screen history (1965-1995).
Retired, but not inactive, I've launched Reeling Back in in order to recall and, perhaps, make sense of it all. Eventually, it will grow into an archive of the nearly 6,000 films I've reviewed to date. Because everything old is news again, each posting will include a note connecting these particular movie memories to the here and now.

And, yes, I intend Reeling Back to offer new material, including web-log commentary, reviews of current pop culture and additions to my own "works in progress" — four book-length projects still in the notebook phase.

From Will Shakespeare to Marshall McLuhan to Joss Whedon, the great thinkers have all reminded us that we live in a world of wonders. In this small corner of cyberspace, I'd like to share some of the wonders that I have seen.