front page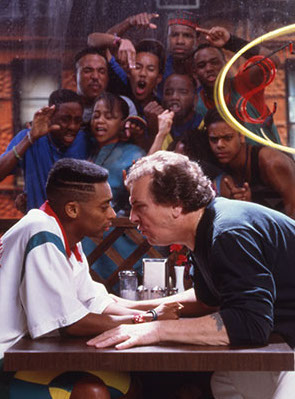 Time to fight the power
Getting past our irrational attitudes
---
Art can make a difference. American attitudes toward slavery, shaped by the publication on this day (March 20) of Harriet Beecher Stowe's 1852 novel Uncle Tom's Cabin, led to the founding on this day in 1854) of a Republican party that opposed the "peculiar institution's" spread into the western territories. When the first Republican president, Abraham Lincoln, met Stowe in 1862, he is said to have called her "the little lady who made this big (U.S. civil) war." Artists can make a difference. Keenly aware of his nation's racist history, independent movie-maker Spike Lee named his production company Forty Acres and a Mule Filmworks, an ironic echo of a Reconstruction era land-redistribution policy that ended in the aftermath of the Lincoln assassination. Its corporate logo includes black activist Malcolm X's phrase "By Any Means Necessary," to underscore Lee's dedication to the ongoing struggle for equality. Born on this day in 1957, he uses the film medium to tell the truth as he sees it. Nor does he mince words in his criticism of today's white-supremacist Republican party. Musing on the January 6, 2021 attack on the U.S. Capitol, Lee says Donald Trump "will go down in history with the likes of Hitler." Today, we'll add four uncompromisingly direct Spike Lee titles to the Reeling Back archive (with links to each following the Afterword to this posting). Our package includes his still-relevant examination of effects of racism on American society, 1989's Do the Right Thing.

← FULL SITE INDEX

local news

Taking shocks seriously

Probes modern medical malfeasance

---




comics page

Cozy accent on class

Peeking into Irish widows' world

---




entertainment

Crusading to open doors

Modern journalists argue for the truth

---




editorials

My glass still half full

My Blog; Your Guide to What's New

---



Byline
REVIEWING CITIZEN WALSH
A DECLARATION OF PRINCIPLES
---
Reelingback.com
is the Internet address of
Michael Walsh
, a Canadian living in Vancouver, British Columbia.
I spent my working life as a newspaperman. While others covered the waterfront, I specialized in movies. As a film critic, I published my views in newspapers and magazines, on radio and television, at conferences, conventions and in the occasional courtroom. It was my good fortune to cover 30 of the most exciting, innovative years in screen history (1965-1995).
Retired, but not inactive, I've launched Reeling Back in in order to recall and, perhaps, make sense of it all. Eventually, it will grow into an archive of the nearly 6,000 films I've reviewed to date. Because everything old is news again, each posting will include a note connecting these particular movie memories to the here and now.

And, yes, I intend Reeling Back to offer new material, including web-log commentary, reviews of current pop culture and additions to my own "works in progress" — four book-length projects still in the notebook phase.

From Will Shakespeare to Marshall McLuhan to Joss Whedon, the great thinkers have all reminded us that we live in a world of wonders. In this small corner of cyberspace, I'd like to share some of the wonders that I have seen.