front page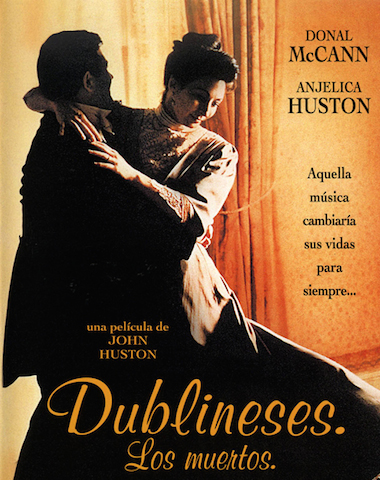 Celebrating Yule's end
Huston bows out with an elegant aside
---
"Looking at Joyce recently," media theorist and James Joyce scholar Marshall McLuhan wrote in a 1987 letter. "A bit startled to note that the last page of Finnegans Wake is a rendering of the last part of the Mass. Remembered that the opening of Ulysses is from the first words of the Mass. The whole thing is an intellectual Black Mass." A Canadian of Scots-Irish descent and a lover of language, McLuhan often celebrated the bardic tradition and the "gift of gab" conferred on the sons of Erin by the famous Blarney Stone. I expect that he also celebrated Bloomsday, the annual commemoration of Joyce and his works that's held today (June 16) around the world. Observed since at least 1924, it takes place on the date Joyce chose to set the events of his novel Ulysses: June 16, 1904. It takes its name from the book's central character, Leopold Bloom, the Dubliner whose memorable Thursday features a series of mundane encounters that mirror those of the mythological Greek hero. Considered a modernist literary landmark, it was also at the centre of the most famous obscenity trial in U.S. history. Given his influence on the arts, it's surprising how few filmmakers have attempted to bring Joyce's work to the screen. Today's three additions to the Reeling Back archive (with links to each following the Afterword to this posting) include directorial legend John Huston's 1987 farewell feature, his adaptation of Joyce's short story The Dead.

← FULL SITE INDEX

local news

Park Theatre goes dark

"Jesus house" ripe for resurrection

---




comics page

Expect to be amused

Finding fun in the rites of succession

---




entertainment

The night of the opera

Beginning the great Asian drama

---




editorials

In the seventh year . . .

My Blog; Your Guide to What's New

---



Byline
REVIEWING CITIZEN WALSH
A DECLARATION OF PRINCIPLES
---
Reelingback.com
is the Internet address of
Michael Walsh
, a Canadian living in Vancouver, British Columbia.
I spent my working life as a newspaperman. While others covered the waterfront, I specialized in movies. As a film critic, I published my views in newspapers and magazines, on radio and television, at conferences, conventions and in the occasional courtroom. It was my good fortune to cover 30 of the most exciting, innovative years in screen history (1965-1995).
Retired, but not inactive, I've launched Reeling Back in in order to recall and, perhaps, make sense of it all. Eventually, it will grow into an archive of the nearly 6,000 films I've reviewed to date. Because everything old is news again, each posting will include a note connecting these particular movie memories to the here and now.

And, yes, I intend Reeling Back to offer new material, including web-log commentary, reviews of current pop culture and additions to my own "works in progress" — four book-length projects still in the notebook phase.

From Will Shakespeare to Marshall McLuhan to Joss Whedon, the great thinkers have all reminded us that we live in a world of wonders. In this small corner of cyberspace, I'd like to share some of the wonders that I have seen.