front page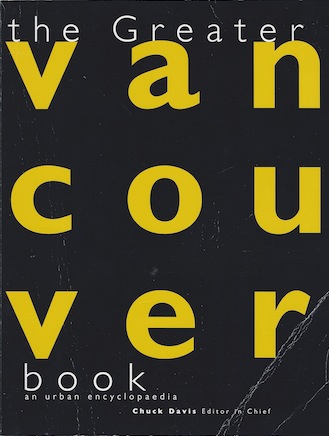 Feature Film Fest indexed
Navigating 70 years of B.C. film history
---
When the late Chuck Davis asked me to update my article on feature film-making in Vancouver for the second (1997) edition of his urban encyclopedia, The Greater Vancouver Book, our city had become a major film production centre. With a significantly larger number of pictures to deal with, I decided to organize the material as if I were programming a series of film festival packages, each keyed to a different film genre. The result was an article that included more than 200 titles organized into 20 lists. As Davis's focus was specifically on Vancouver, the finished piece excluded those B.C. features not filmed in whole or in part in the Lower Mainland (now known as Metro Vancouver). In an attempt to make this Reeling Back restoration a more useful historical resource, the 20-part series has been edited, expanded and updated to include additional information that I've learned since the original publication. Part of that process has been the creation of this Greater Vancouver Book Feature Film Festival INDEX. It lists all of the feature film titles alphabetically. Each title is a hyperlink to the "program" in which the film is described. Clicking on the title Timecop, for example, will take you to the program called Cybercity, a list of science-fiction features shot on Vancouver-area locations. At the bottom of the page is a second list of links connecting to the 20 programs by their names.

← FULL SITE INDEX

local news

Our Feature Film Fest: 20

Taking the picture show on the road

---

In Part 20 of a 20-part series, Reeling Back concludes The Greater Vancouver Book's Feature Film Festival, with restored notes on eleven features celebrating freedom and mobility, a final program that takes us On the Road Again.





comics page

Carry on partying

Corpse comedy digs up little laughter

---

Today (April 22), Reeling Back celebrates Earth Day, first held in 1970, and actress Catherine Mary Stewart, born on this day in 1959. Congratulations are due the U.S. and China for signing the Paris Agreement, and to Stewart, who survived director Ted Kotcheff's Weekend at Bernie's.





entertainment

Making history with Mao

NFB's Newman bears gifts to China

---

If people remember anything about pioneer broadcaster Sydney Newman, it's that he created the iconic BBC science-fiction series Doctor Who. On Canada's Film Day (April 20) for 2016, Reeling Back recalls the Newman who represented our national cinema in China in 1974.





editorials

A generation of change

My Blog; Your Guide to What's New

---

A glance at today's headlines (March 30) confirms that the world is on its way to Hades in the proverbial handbasket. Rather than give in to the requisite despair, I prefer to accentuate the positive, and take heart from the many unexpected wonders that we've created during the last 20 years.




Byline
REVIEWING CITIZEN WALSH
A DECLARATION OF PRINCIPLES
---
Reelingback.com
is the Internet address of
Michael Walsh
, a Canadian living in Vancouver, British Columbia.
I spent my working life as a newspaperman. While others covered the waterfront, I specialized in movies. As a film critic, I published my views in newspapers and magazines, on radio and television, at conferences, conventions and in the occasional courtroom. It was my good fortune to cover 30 of the most exciting, innovative years in screen history (1965-1995).
Retired, but not inactive, I've launched Reeling Back in in order to recall and, perhaps, make sense of it all. Eventually, it will grow into an archive of the nearly 6,000 films I've reviewed to date. Because everything old is news again, each posting will include a note connecting these particular movie memories to the here and now.

And, yes, I intend Reeling Back to offer new material, including web-log commentary, reviews of current pop culture and additions to my own "works in progress" — four book-length projects still in the notebook phase.

From Will Shakespeare to Marshall McLuhan to Joss Whedon, the great thinkers have all reminded us that we live in a world of wonders. In this small corner of cyberspace, I'd like to share some of the wonders that I have seen.