front page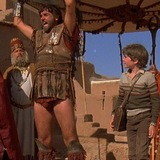 Once and future delight
Literate laughter, and not just for kids
---
Among the current complications on our favourite prime-time soap opera, Once Upon a Time: Regina Mills, a.k.a. the Evil Queen (Lana Parrilla) and Robin Hood (Sean Maguire) are in love, but can't be together because Robin's wife Marian (Christie Laing), thought to be dead, returned at the end of Season Three. But now, as we near the mid-point of Season Four, Marian is in a frozen coma, the result of an encounter with the Snow Queen (Elizabeth Mitchell). Filmed in and around Vancouver, Once Upon a Time is an example of the re-imagining of traditional literature and folklore that is enriching our popular culture. Its creators (Edward Kitsis, Adam Horowitz) enjoy access to more than 75 years of Disney productions, and have apparently been given a free hand in the shaping of their myth. The result has been a grand melding of characters and their histories into a self-referential, often comic family saga that just gets more deliciously complex with every episode. The narrative, which takes place in fantasylands that exist in parallel with modern Storybrooke, Maine, involves much time travel. Its producers, some argue, are just bandits, stealing their ideas from the established lore. Personally, I love living in an age of such meta marvels, and am grateful to its great pioneer, writer-director Terry Gilliam. Born on this day (November 22) in 1940, he blazed the trail with 1981's Time Bandits.

← previous articles

local news

Our Feature Film Fest: 3

The future is filmed here

---

In Part 3 of a 20-part series, Reeling Back introduces The Greater Vancouver Book's Feature Film Festival, and offers notes on the 13 features in the program called Cybercity.





comics page

Cat in tune with times

Comix with a deranged Disney look

---

Though the artists did not see eye to eye on the result, adult animation pioneer Ralph Bakshi, born on this day (October 29) in 1938, made cartoon history with his feature adaptation of underground comics pioneer Robert Crumb's most famous character, Fritz the Cat (1972).





entertainment

Quality key to competing

Planning for future of feature films

---

During interviews conducted in 1975 and 1976, Oscar-winning producer F.R. "Budge" Crawley shared with me his views on feature filmmaking in Canada, a rentals-tax plan to encourage quality productions and the "good light" in Vancouver.





classified

A change of hope

My Blog; Your Guide to What's New

---

There's just a touch of black humour in the fact that October ends with Hallowe'en, a celebration of mock horror. Then comes November, with its various elections, political rituals full of mock hope. Americans voted on November 4; Vancouver goes to the polls today (November 15).




Editorial
REVIEWING CITIZEN WALSH
A DECLARATION OF PRINCIPLES
---
Reelingback.com
is the Internet address of
Michael Walsh
, a Canadian living in Vancouver, British Columbia.
I spent my working life as a newspaperman. While others covered the waterfront, I specialized in movies. As a film critic, I published my views in newspapers and magazines, on radio and television, at conferences, conventions and in the occasional courtroom. It was my good fortune to cover 30 of the most exciting, innovative years in screen history (1965-1995).
Retired, but not inactive, I've launched Reeling Back in in order to recall and, perhaps, make sense of it all. Eventually, it will grow into an archive of the nearly 6,000 films I've reviewed to date. Because everything old is news again, each posting will include a note connecting these particular movie memories to the here and now.

And, yes, I intend Reeling Back to offer new material, including web-log commentary, reviews of current pop culture and additions to my own "works in progress" — four book-length projects still in the notebook phase.

From Will Shakespeare to Marshall McLuhan to Joss Whedon, the great thinkers have all reminded us that we live in a world of wonders. In this small corner of cyberspace, I'd like to share some of the wonders that I have seen.