front page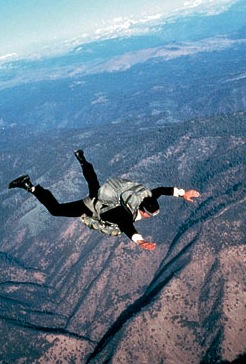 Getting away with it all
Air piracy tale played for fun and profit
---
It's said that the day before the November Thanksgiving holiday is the busiest day of the year for air travel in the U.S. Apparently that's not true, but it probably feels that way for people headed for family gatherings they'd rather not attend as they endure the ever-less pleasant security protocols that have become a permanent part of the experience. On Monday (November 23), CNN reported that "security will be tight in the wake of terrorist attacks in Paris and the suspected bombing of a Russian passenger plane [in Egypt]," adding that "the Transportation Security Administration has 'doubled down' on security at [U.S.] airports, and wait times have gone up." The good news is that the new tablet technologies can provide idled travelers access to a universe of diversions. Entertainment awaits at the touch of a finger, though some discretion is advised. While the 1973 cartoon feature A Charlie Brown Thanksgiving is harmless enough, it would be wise to avoid such anxiety-inducing fare as 1972's Skyjacked or Snakes on a Plane (2006). Perhaps the best choice is the one that recalls the most celebrated Thanksgiving air traveler of them all. It was on this day (November 24) in 1971 that he exited Northwest Orient's Flight 305 somewhere over the Cascade Mountains, a story told in director Roger Spottiswoode's 1981 action-adventure The Pursuit of D.B. Cooper.

← FULL SITE INDEX

local news

Working on the railroad

Pryor engineers a great train robbery

---

In their first film as a comedy team, Gene Wilder and Richard Pryor worked for a Canadian director while traveling aboard a train called the Canadian. Born on this day (November 22) in 1923, Arthur Hiller engineered the transcontinental mayhem in 1976's Silver Streak.





comics page

Less than legendary

Comedy fulfills contractual obligation

---

Today (November 26) is Thanksgiving Day in the U.S., the national holiday that evokes considerable ambivalence in American popular culture. In 1984, writer-director Woody Allen marked the occasion by serving up a slice of cinematic turkey called Broadway Danny Rose.





entertainment

Love's many faces

Directing the laughter and the tears

---

After distinguishing himself during TV's golden age, he moved on to feature films, earning an Oscar nomination as the director of 1970's top-grossing picture, Love Story. Today's quiz tests your knowledge of the screen career of Edmonton-born Arthur Hiller.





editorials

Loving Paris in the fall

My Blog; Your Guide to What's New

---

One week on and, according to news reports, France and its neighbours remain on high alert. The current official death toll is 130, including a 29-year-old Moroccan said to have been the "mastermind" behind the November 13th attacks in Paris. What are we to make of it all?




Byline
REVIEWING CITIZEN WALSH
A DECLARATION OF PRINCIPLES
---
Reelingback.com
is the Internet address of
Michael Walsh
, a Canadian living in Vancouver, British Columbia.
I spent my working life as a newspaperman. While others covered the waterfront, I specialized in movies. As a film critic, I published my views in newspapers and magazines, on radio and television, at conferences, conventions and in the occasional courtroom. It was my good fortune to cover 30 of the most exciting, innovative years in screen history (1965-1995).
Retired, but not inactive, I've launched Reeling Back in in order to recall and, perhaps, make sense of it all. Eventually, it will grow into an archive of the nearly 6,000 films I've reviewed to date. Because everything old is news again, each posting will include a note connecting these particular movie memories to the here and now.

And, yes, I intend Reeling Back to offer new material, including web-log commentary, reviews of current pop culture and additions to my own "works in progress" — four book-length projects still in the notebook phase.

From Will Shakespeare to Marshall McLuhan to Joss Whedon, the great thinkers have all reminded us that we live in a world of wonders. In this small corner of cyberspace, I'd like to share some of the wonders that I have seen.