front page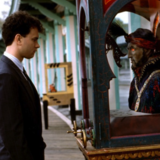 Wishing makes it so
Comic charm in unintended consequences
---
In January 2010, Britain's Guardian newspaper posed the question "So, is this a new era for female film-makers?" Its answer: "Unfortunately, the numbers suggest otherwise. In a study published last year, Professor Martha Lauzen of San Diego State University found that only nine per cent of Hollywood directors in 2008 were women – the same figure she had recorded in 1998." In January 2014, Variety noted that "It's the same old story. Four years after Kathryn Bigelow became the first woman to win the directing Oscar for The Hurt Locker, the industry still has a terrible track record on gender equality behind the camera." Thirty years ago, the answer to that "new era" question was Penny Marshall, who was born on this day (October 15) in 1943. The kid sister of writer-director Garry Marshall, she'd been a successful actress for nearly 20 years when, encouraged by her brother, she stepped up to direct Whoopi Goldberg in the 1986 comedy Jumpin' Jack Flash. Until then, she was best known for playing Laverne DeFasio (to Cindy Williams's Shirley Feeney) during eight seasons of television's Laverne and Shirley. Afterwards, she alternated acting with directing, adding six more features to her resume. It was with her second feature, 1988's Big, that she became a creative force to be reckoned with.

← previous articles

local news

Something silly in view

Cute robot hardly true to Wells

---

Born on this day (Octorber 19) in 1920, producer Harry Alan Towers made films anywhere and everywhere. In 1979, he released the first of his features filmed in Canada, The Shape of Things to Come.





comics page

In a galaxy far away

Surreal style for a sidereal story

---

Before the computer made a new age of animation possible, there was a mid-1970s burst of adult cartooning. A worldwide movement, it included the brilliant outrages of Ralph Bakshi, and a thoughtful, Franco-Czech science-fiction feature, director Rene Laloux's The Fantastic Planet.





entertainment

B.C. gets Klondike Fever

London-born producer a London buff

---

During the 1979 filming of the feature film Klondike Fever, the prolific British-born producer Harry Alan Towers sat down with me in Vancouver to discuss its subject, author Jack London, and the perils of international co-productions.





classified

Welcome to Year Two

My Blog; Your Guide to What's New

---

The Reeling Back website celebrated its first birthday during the VCON 39 science-fiction convention, held this year in Surrey, B.C. And now, we look ahead to Year Two with a sense that the best is yet to come as we continue connecting our movie memories to the present moment.




Editorial
REVIEWING CITIZEN WALSH
A DECLARATION OF PRINCIPLES
---
Reelingback.com
is the Internet address of
Michael Walsh
, a Canadian living in Vancouver, British Columbia.
I spent my working life as a newspaperman. While others covered the waterfront, I specialized in movies. As a film critic, I published my views in newspapers and magazines, on radio and television, at conferences, conventions and in the occasional courtroom. It was my good fortune to cover 30 of the most exciting, innovative years in screen history (1965-1995).
Retired, but not inactive, I've launched Reeling Back in in order to recall and, perhaps, make sense of it all. Eventually, it will grow into an archive of the nearly 6,000 films I've reviewed to date. Because everything old is news again, each posting will include a note connecting these particular movie memories to the here and now.

And, yes, I intend Reeling Back to offer new material, including web-log commentary, reviews of current pop culture and additions to my own "works in progress" — four book-length projects still in the notebook phase.

From Will Shakespeare to Marshall McLuhan to Joss Whedon, the great thinkers have all reminded us that we live in a world of wonders. In this small corner of cyberspace, I'd like to share some of the wonders that I have seen.