front page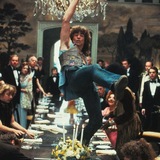 I got life, brother!
A musical past its time made timeless
---
Yes, Canada has a musical theatre tradition. Listening to Vancouver composer Anton Lipovetsky's music during a November performance of the science-fiction stage comedy Broken Sex Doll, I was reminded of Galt MacDermot. In 1957, his fusion of 1940s pop with 1950s rock helped make a McGill University musical spoof called My Fur Lady a national phenomenon. Lacking a production centre like Broadway, Canada's musical theatre history consists of unlikely local hits, each a tribute to artistic tenacity. Premiered in Charlottetown in 1965, Norman Campbell's music for Anne of Green Gables - The Musical was in the Broadway style, while songwriter Ann Mortifee's contemporary scoring of The Ecstacy of Rita Joe (1967) reflected the work's West Coast sensibility. A decade later, John MacLachlan Gray's Billy Bishop Goes to War (1978) went from East Vancouver to Broadway. More recently, music and songs by Lisa Lambert and Greg Morrison for The Drowsy Chaperone (1999) made their way from Toronto to New York (and later London). Working on the margins, Canadians tend to break out with off-beat items, such as 2003's The Evil Dead, The Musical, first performed by students of Kingston's Queen's University. And, of course, MacDermot, born in Montreal on this day (December 19) in 1928, made history by scoring Broadway's first rock musical, Hair, adapted for the screen by director Milos Forman in 1979.

← previous articles

local news

Our Feature Film Fest: 5

The young and the restless

---

In Part 5 of a 20-part series, Reeling Back continues The Greater Vancouver Book's Feature Film Festival, with restored notes on the 17 features in the program called Youthquakes.





comics page

A magnificent seven

Celebrating the first princess's 50th

---

Walt Disney chose today (December 21) the shortest day of 1937, to premiere his first feature-length cartoon, a film with an ensemble of charmingly short supporting players — Snow White and the Seven Dwarfs





entertainment

Odds against lotto win

Regressively taxing poor and elderly

---

Gambling, the addictive behaviour that its corporate promoters call "gaming," continues to be a source of controversy in B.C. More than 30 years ago, director Tom Shandel documented the case against government encouragement of Lotomania (1980).





classified

Whedon's flight to B.C.

My Blog; Your Guide to What's New

---

Of all the the picturesque coastal cities in the world, why did Joss Whedon's Agents of S.H.I.E.L.D. fly into ours in the ninth episode of its second season? As many of my favourite television shows go into hibernation for the holidays, I'm faced with more questions.




Editorial
REVIEWING CITIZEN WALSH
A DECLARATION OF PRINCIPLES
---
Reelingback.com
is the Internet address of
Michael Walsh
, a Canadian living in Vancouver, British Columbia.
I spent my working life as a newspaperman. While others covered the waterfront, I specialized in movies. As a film critic, I published my views in newspapers and magazines, on radio and television, at conferences, conventions and in the occasional courtroom. It was my good fortune to cover 30 of the most exciting, innovative years in screen history (1965-1995).
Retired, but not inactive, I've launched Reeling Back in in order to recall and, perhaps, make sense of it all. Eventually, it will grow into an archive of the nearly 6,000 films I've reviewed to date. Because everything old is news again, each posting will include a note connecting these particular movie memories to the here and now.

And, yes, I intend Reeling Back to offer new material, including web-log commentary, reviews of current pop culture and additions to my own "works in progress" — four book-length projects still in the notebook phase.

From Will Shakespeare to Marshall McLuhan to Joss Whedon, the great thinkers have all reminded us that we live in a world of wonders. In this small corner of cyberspace, I'd like to share some of the wonders that I have seen.