front page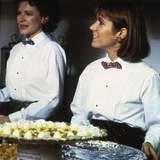 Treats amidst the angst
Off-season Allen features moments of mirth
---
We all know her backstory. She was born a princess to a father who abandoned her mother after being seduced to the Dark Side. What's harder to know is whether Carrie Fisher, who celebrates her 58th birthday today (October 21), saw the parallels to her own life when she read for the part of Princess Leia Organa in the original Star Wars. Her parents, Eddie Fisher and Debbie Reynolds, were Hollywood royalty. Their 1955 marriage was a national celebration. Then Eddie, besotted with the dark-haired, much-wed Elizabeth Taylor, left redheaded Debbie. The biggest show business scandal of the 1950s, it left two-year-old Carrie fatherless. She became a star in her own right at 20, in the science-fiction blockbuster of 1977. Since then, it's been a bumpy ride involving such tabloid fodder as rocky relationships, drugs, weight problems and electroconvulsive therapy, along with success as an actress and writer. Currently, she is involved in the final weeks of production on director J.J. Abrams's Star Wars: Episode VII, reuniting Fisher with Harrison Ford, Mark Hamill, Kenny Baker and Peter Mayhew. Scheduled for a Christmas 2015 release, the new movie will pick up the story of Luke Skywalker, Han Solo and Leia some 30 years after their victory celebration in Return of the Jedi. Today, though, Reeling Back recalls her work in another tale of family reunion, Woody Allen's 1986 feature Hannah and Her Sisters.

← previous articles

local news

Looking for Mr. Nutbar

Future cops battle bad 'bots

---

Born on this day (October 23) in 1942, the multi-talented Michael Crichton wrote best-selling novels — he's considered the father of the techno-thriller — and directed science-fiction films, including the 1984 future-cop feature Runaway, shot on location in Vancouver.





comics page

In a galaxy far away

Surreal style for a sidereal story

---

Before the computer made a new age of animation possible, there was a mid-1970s burst of adult cartooning. A worldwide movement, it included the brilliant outrages of Ralph Bakshi, and a thoughtful, Franco-Czech science-fiction feature, director Rene Laloux's The Fantastic Planet.





entertainment

B.C. gets Klondike Fever

London-born producer a London buff

---

During the 1979 filming of the feature film Klondike Fever, the prolific British-born producer Harry Alan Towers sat down with me in Vancouver to discuss its subject, author Jack London, and the perils of international co-productions.





classified

Change in the air

My Blog; Your Guide to What's New

---

Author-activist Naomi Klein will be in Vancouver on Sunday (October 26) to give a free lecture in UBC's Chan Centre on the subject of capitalism versus the climate. Hundreds of people were lined up at noon Tuesday (October 21) for advance tickets to the early evening event.




Editorial
REVIEWING CITIZEN WALSH
A DECLARATION OF PRINCIPLES
---
Reelingback.com
is the Internet address of
Michael Walsh
, a Canadian living in Vancouver, British Columbia.
I spent my working life as a newspaperman. While others covered the waterfront, I specialized in movies. As a film critic, I published my views in newspapers and magazines, on radio and television, at conferences, conventions and in the occasional courtroom. It was my good fortune to cover 30 of the most exciting, innovative years in screen history (1965-1995).
Retired, but not inactive, I've launched Reeling Back in in order to recall and, perhaps, make sense of it all. Eventually, it will grow into an archive of the nearly 6,000 films I've reviewed to date. Because everything old is news again, each posting will include a note connecting these particular movie memories to the here and now.

And, yes, I intend Reeling Back to offer new material, including web-log commentary, reviews of current pop culture and additions to my own "works in progress" — four book-length projects still in the notebook phase.

From Will Shakespeare to Marshall McLuhan to Joss Whedon, the great thinkers have all reminded us that we live in a world of wonders. In this small corner of cyberspace, I'd like to share some of the wonders that I have seen.