front page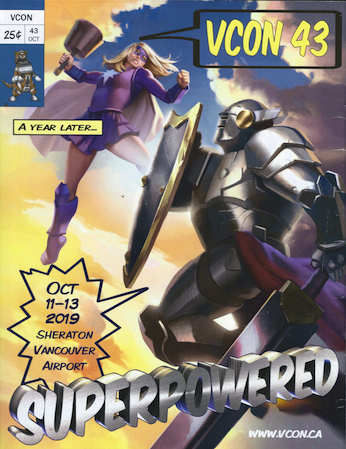 VCON 43: Endgame
No Hope for an historian's interview
---
Since its online debut in October 2013, Reeling Back has celebrated the opening day of VCON, Vancouver's annual science fiction & fantasy convention, as our "official" birthday. Today (October 11), scheduled to be Day One of VCON 43, thus marks this website's sixth year in cyberspace. Just four weeks ago, the West Coast Science Fiction Association (WCSFA), VCON's organizing body, announced that it had cancelled the 2019 event "and work to rebuild . . . for a 2021 launch." Needless to say, the convention's unexpected demise disappointed a lot of people. For me, a minor program participant, it meant that I would not have the opportunity to sit down for a public interview with Hope Nicholson, the con's Pop Culture Guest of Honour. A force to be reckoned with in Canada's comic arts community, Nicholson is the founder of Winnipeg's Bedside Press, an independent publisher of new works and classic comics reprints. I had looked forward to chatting with her about her multi-tasking as an editor, publisher, historian — her 2017 book The Spectacular Sisterhood of Superwomen is a must read for any serious graphic arts fan — and advocate for indigenous comic creators. To let everyone know how seriously I take the chronicling of comics history, I was going to post a feature story that I wrote back in 1967, an opinion piece that was published under the headline The Crusade that Cleaned-up (sic) Comics. Oh, wait. I can still share it in celebration of Reeling Back's continued survival.

← FULL SITE INDEX

local news

Short on real courage

Bias is built into the casting process

---




comics page

Seeing through the truth

Ethics are a matter of choosing sides

---




entertainment

Pandemic remembered

Film generates both anger and tears

---




editorials

Plans set, goals met

My Blog; Your Guide to What's New

---



Byline
REVIEWING CITIZEN WALSH
A DECLARATION OF PRINCIPLES
---
Reelingback.com
is the Internet address of
Michael Walsh
, a Canadian living in Vancouver, British Columbia.
I spent my working life as a newspaperman. While others covered the waterfront, I specialized in movies. As a film critic, I published my views in newspapers and magazines, on radio and television, at conferences, conventions and in the occasional courtroom. It was my good fortune to cover 30 of the most exciting, innovative years in screen history (1965-1995).
Retired, but not inactive, I've launched Reeling Back in in order to recall and, perhaps, make sense of it all. Eventually, it will grow into an archive of the nearly 6,000 films I've reviewed to date. Because everything old is news again, each posting will include a note connecting these particular movie memories to the here and now.

And, yes, I intend Reeling Back to offer new material, including web-log commentary, reviews of current pop culture and additions to my own "works in progress" — four book-length projects still in the notebook phase.

From Will Shakespeare to Marshall McLuhan to Joss Whedon, the great thinkers have all reminded us that we live in a world of wonders. In this small corner of cyberspace, I'd like to share some of the wonders that I have seen.