front page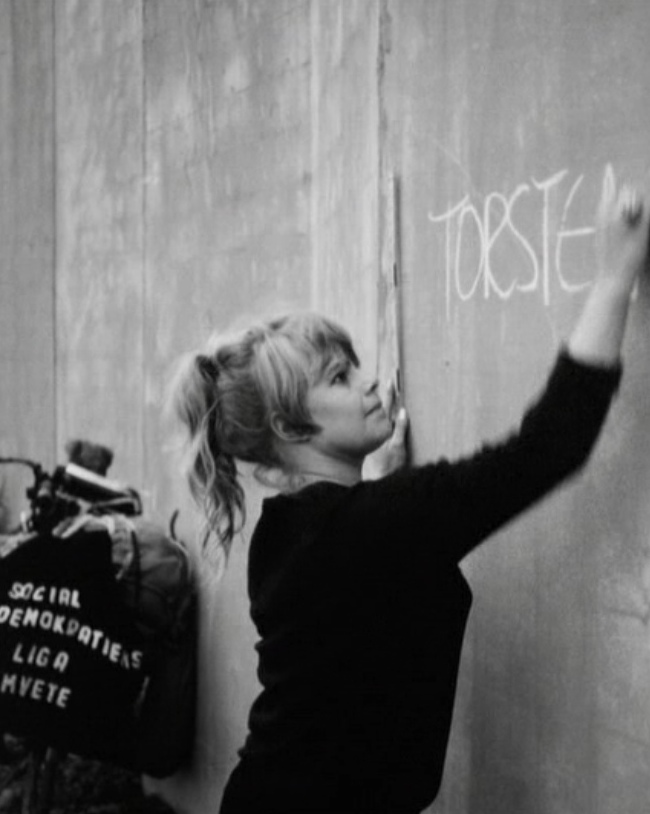 Protesting society's ills
Swedish activist challenges U.S. censorship
---
As 2016's Nobel Prize-winning poet famously said, "the times they are a-changin'." Among the changes apparent in November was an increase in the number of voters willing to take to the streets to express buyer's remorse over their presidential choices. On Saturday (November 27) in South Korea, a crowd estimated at 1.5 million marched through downtown Seoul calling for the resignation of President Park Geun-hye. She is currently facing impeachment, the result of a scandal based on her involvement with a religious cult. In South Africa, similar calls are being heard in both the streets and the corridors of power, as revelations about President Jacob Zuma continue to erode his popularity and energize mass public protests. Even a "mature" democracy like the United States, with its long history of voters sucking it up and accepting the results of a rancorous presidential election, is in turmoil. Americans, unhappy with Donald Trump's surprise victory at the polls, have mounted protest marches almost every day since. The public mobilizations are unprecedented, recalling to some historians the anti-war movement that rocked the republic during Richard Nixon's presidency. It would all be a matter of déjà vu for Vilgot Sjöman, a filmmaker who set out to question the givens of Swedish politics in the mid-1960s with a new kind of activist entertainment. Born on this day (December 2) in 1924, Sjöman found himself in the midst of a censorship crisis when his 1967 feature I Am Curious (Yellow) was banned in the U.S.

← FULL SITE INDEX

local news

Satirizing cost-cutters

On Her Majesty's sexual service

---

On this day (November 19) in 1981, Montreal Gazette columnist Ted Blackman reported on "the making of porno flicks in the (Québec) National Assembly." Dubbed "PornoBéc," the allegations inspired Montréal director George Mihalka to fictionalize the tale in his 1982 sex comedy Scandale.





comics page

What do gremlins want?

Charting the chaos that is civilization

---

An artist with a deep appreciation of the Looney Tunes legacy, director Joe Dante set out to make movies great again. Born on this day (November 28) in 1946, he anticipated the promise and confusion of our own anarchic times in his 1990 corporate-media fantasy Gremlins 2: The New Batch.





entertainment

Entering into the story

A truth more appalling than fiction

---

On this day (November 30) in 1989, Florida storekeeper Richard Mallory became the first victim of that relative rarity, a female serial killer. Convicted of his murder in 1992, her story was the subject of British documentarist Nick Broomfield's 1993 feature Aileen Wuornos: The Selling of a Serial Killer





editorials

More tricks than treats

My Blog; Your Guide to What's New

---

It used to be so simple. One night a year, kids went around the neighbourhood in homemade costumes collecting treats. Who knew that in 2016 Hallowe'en would be a multibillion-dollar industry, a seasonal event increasingly mired in social contradictions and political controversy?




Byline
REVIEWING CITIZEN WALSH
A DECLARATION OF PRINCIPLES
---
Reelingback.com
is the Internet address of
Michael Walsh
, a Canadian living in Vancouver, British Columbia.
I spent my working life as a newspaperman. While others covered the waterfront, I specialized in movies. As a film critic, I published my views in newspapers and magazines, on radio and television, at conferences, conventions and in the occasional courtroom. It was my good fortune to cover 30 of the most exciting, innovative years in screen history (1965-1995).
Retired, but not inactive, I've launched Reeling Back in in order to recall and, perhaps, make sense of it all. Eventually, it will grow into an archive of the nearly 6,000 films I've reviewed to date. Because everything old is news again, each posting will include a note connecting these particular movie memories to the here and now.

And, yes, I intend Reeling Back to offer new material, including web-log commentary, reviews of current pop culture and additions to my own "works in progress" — four book-length projects still in the notebook phase.

From Will Shakespeare to Marshall McLuhan to Joss Whedon, the great thinkers have all reminded us that we live in a world of wonders. In this small corner of cyberspace, I'd like to share some of the wonders that I have seen.