front page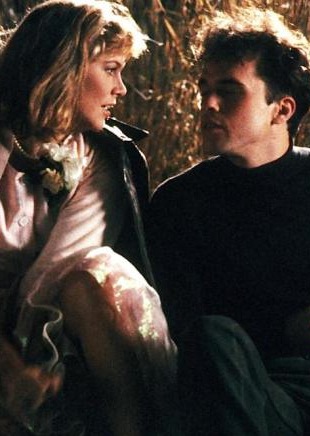 All things considered . . .
Caught dreaming impossible dreams
---
Today (October 2), VCON 40 opens at the Sheraton Vancouver Airport Hotel in Richmond. B.C. The 2015 edition of Vancouver's longest-running science-fiction and fantasy convention has as its guest of honour Joe Haldeman, author of the influential 1974 novel The Forever War. Noting that Marty McFly is due back to his future this month — the date Wednesday, October 21, 2015 is cited in Back to the Future Part II — the con has taken Time Travel as its theme. I'll be attending the three-day event, where on Sunday afternoon I'll take part in a panel called Worlds of Whedon. (Focusing on the latest accomplishments of the ever-creative Joss Whedon, this panel has been a VCON tradition since 1999.) Saturday morning, I'll be one of the five folk discussing Time Travel in Film, which also happens to be the subject of today's Reeling Back coverage. I find it fascinating that science fiction's most influential time-travel tale (H.G. Wells's novella The Time Machine) was published in 1885, the same year as the Lumière brothers projected the first moving pictures to a paying audience, in effect introducing the world to a real time machine. Ever since, the movies have carried us forward and backward, playing with the possibilities and paradoxes of what are essentially impossible dreams. One of my own favourite examples of the genre is that rare comedy from Godfather director Francis Ford Coppola, 1986's Peggy Sue Got Married

← FULL SITE INDEX

local news

Healing time's wounds

The future of law enforcement

---

On his third working visit to Vancouver, Hollywood director Peter Hyams added time travel to the list of science-fictional themes explored in his eclectic film portfolio. Martial arts action star Jean-Claude Van Damme played the title role in his comic-book-inspired 1994 feature Timecop.





comics page

Charting a new course

Delicious departure from the formula

---

Inspired by an absurdist 1984 comic book that heckled superheroes, the mutant terrapins eventually mutated into a 1990s film franchise. The joke got old and finally fizzled out with the release of 1993's Teenage Mutant Ninja Turtles III: The Turtles Are Back . . . in Time.





entertainment

It was on this day . . .

Movies taking trips through time

---

Reeling Back visitors are invited on a movie date, one in which the destination is a date. Test your knowledge of the screen's innovative attempts to journey through the fourth dimension with this original VCON 40 Time Travel quiz.





editorials

Heinlein's time lines

My Blog; Your Guide to What's New

---

Though Time Machine author H.G. Wells is the father of time travel in modern science fiction, Robert A. Heinlein is legendary for making the theme his own. The 2014 film Predestination is an adaptation of a 1959 story in which he is both mother and father to the genre.




Byline
REVIEWING CITIZEN WALSH
A DECLARATION OF PRINCIPLES
---
Reelingback.com
is the Internet address of
Michael Walsh
, a Canadian living in Vancouver, British Columbia.
I spent my working life as a newspaperman. While others covered the waterfront, I specialized in movies. As a film critic, I published my views in newspapers and magazines, on radio and television, at conferences, conventions and in the occasional courtroom. It was my good fortune to cover 30 of the most exciting, innovative years in screen history (1965-1995).
Retired, but not inactive, I've launched Reeling Back in in order to recall and, perhaps, make sense of it all. Eventually, it will grow into an archive of the nearly 6,000 films I've reviewed to date. Because everything old is news again, each posting will include a note connecting these particular movie memories to the here and now.

And, yes, I intend Reeling Back to offer new material, including web-log commentary, reviews of current pop culture and additions to my own "works in progress" — four book-length projects still in the notebook phase.

From Will Shakespeare to Marshall McLuhan to Joss Whedon, the great thinkers have all reminded us that we live in a world of wonders. In this small corner of cyberspace, I'd like to share some of the wonders that I have seen.