front page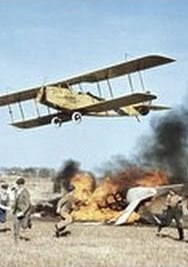 Soaring above it all
War's aftermath a flight into forgetting
---
Lest we forget, it was on this day (November 11) in 1918, that the "war to end all wars" ended. For just over four years, the world's several empires were engaged in wholesale slaughter in every corner of the globe, a useless assertion of imperial might that left millions dead and millions more questioning the meaning of it all. One year on, Britain's King George V marked his empire's "victory" with the first annual Remembrance Day celebration. A year later, in 1920, the monarch unveiled a cenotaph on London's Whitehall. It was dedicated to "The Glorious Dead," and established the official answer to the question "lest we forget . . . what?" In 1921, wearing a red poppy became part of the ritual, along with a reading of Canadian John McCrae's elegiac poem In Flanders Fields. Instead of recalling the social and political reasons for the carnage, we were urged to focus on the "sacrifice" of those who died. The Great War was renamed the First World War when, after 20 years of misremembrance, a Second World War broke out. The argument over how to view armed conflict continues to this day in the popular culture, most prominently in one of cinema's founding genres, the war movie. The First World War is the background remembered in the three feature films being added to the Reeling Back archive today (with links to each following the Afterword). In 1975, director George Roy Hill showed how the war shaped the worldview of one of its American veterans, an aviation legend known as The Great Waldo Pepper.

← FULL SITE INDEX

local news

A King sings country

With authentic mood and gritty reality

---




comics page

Heart in the right place

. . . but the guts are malfunctioning

---




entertainment

Sympathy for the demon

Damsel is the ultimate stakeholder

---




editorials

Reeling Back set back

My Blog; Your Guide to What's New

---



Byline
REVIEWING CITIZEN WALSH
A DECLARATION OF PRINCIPLES
---
Reelingback.com
is the Internet address of
Michael Walsh
, a Canadian living in Vancouver, British Columbia.
I spent my working life as a newspaperman. While others covered the waterfront, I specialized in movies. As a film critic, I published my views in newspapers and magazines, on radio and television, at conferences, conventions and in the occasional courtroom. It was my good fortune to cover 30 of the most exciting, innovative years in screen history (1965-1995).
Retired, but not inactive, I've launched Reeling Back in in order to recall and, perhaps, make sense of it all. Eventually, it will grow into an archive of the nearly 6,000 films I've reviewed to date. Because everything old is news again, each posting will include a note connecting these particular movie memories to the here and now.

And, yes, I intend Reeling Back to offer new material, including web-log commentary, reviews of current pop culture and additions to my own "works in progress" — four book-length projects still in the notebook phase.

From Will Shakespeare to Marshall McLuhan to Joss Whedon, the great thinkers have all reminded us that we live in a world of wonders. In this small corner of cyberspace, I'd like to share some of the wonders that I have seen.