front page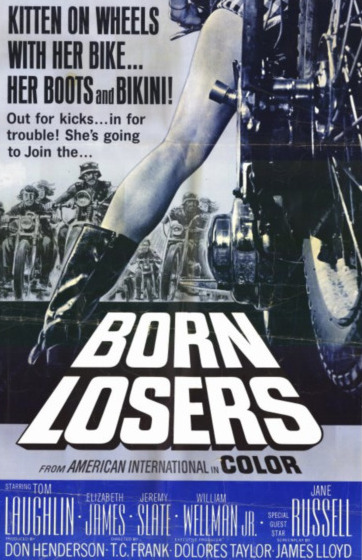 Hollywood code breaker
Achieves much by daring more
---
Tom Laughlin was no fan of movie critics. In April 1975, the creator of the screen character Billy Jack took out a full-page ad in the trade paper Variety that posed the question: "Why is it that editors continue to employ critics who are totally out of touch with the audiences they are paid to review for?" Laughlin, the independent producer who had written, directed and starred in the 1971 action film Billy Jack, believed in his audience. Despite critical condemnation, his low-budget tale of a Vietnam veteran who comes to the aid of a teacher and her Freedom School, was the No. 5 top-grossing film of its year. On this day (September 18) in 1975, Laughlin took his campaign to the streets of New York, where he used the electric sign over Nathan's in Times Square to excoriate Newsweek's Paul Zimmerman and Joseph Morgenstern for shopping their own screenplays to Hollywood studios while working as movie reviewers for the magazine. Influenced by such independent talents as John Cassavetes and Roger Corman, he viewed film as a medium for social change, and made action films that promoted counter-cultural attitudes. Among his causes were Native American rights — Billy Jack was half-Navaho — and educational reform. He was opposed to nuclear power, the Christian right and U.S. participation in foreign wars. Billy Jack made his screen debut in director Laughlin's 1967 biker epic Born Losers.

← FULL SITE INDEX

local news

Worth a weak smile

Jokes that neither win, place nor show

---

Born on this day (September 19) in 1945, Paul Flaherty honed his writing skills as a member of the Edmonton-based SCTV production team. No surprise, then, when he took on the job of directing his second theatrical feature, 1989's Who's Harry Crumb?, that John Candy was his star.





comics page

Read it again, Grandpa

When television was called books

---

A Princess & Pirates Weekend begins today (September 16, 2017) in Peoria, the Illinois city that has come to symbolize middle-American values. By coincidence, the celebration falls on the birthday (in 1927) of Peter Falk, who made the story come alive in 1987's The Princess Bride.





entertainment

Funny females in focus

Standing up to the comic patriarchy

---

On this day (September 21) in 1962, two-time Oscar winner Bette Davis advertised for work in the Hollywood Reporter, an ad that mocked Hollywood's treatment of older actresses. Director Gail Singer celebrated such caustic female humour in her 1992 concert documentary Wisecracks.





editorials

Unhappy grr argh moment

My Blog; Your Guide to What's New

---

Monday (August 21) began with the wonder of a solar eclipse, an event followed by news suggesting that American pop culture icon Joss Whedon may not be the man we thought him to be. Whether his creative achievements will now be eclipsed is yet to be determined.




Byline
REVIEWING CITIZEN WALSH
A DECLARATION OF PRINCIPLES
---
Reelingback.com
is the Internet address of
Michael Walsh
, a Canadian living in Vancouver, British Columbia.
I spent my working life as a newspaperman. While others covered the waterfront, I specialized in movies. As a film critic, I published my views in newspapers and magazines, on radio and television, at conferences, conventions and in the occasional courtroom. It was my good fortune to cover 30 of the most exciting, innovative years in screen history (1965-1995).
Retired, but not inactive, I've launched Reeling Back in in order to recall and, perhaps, make sense of it all. Eventually, it will grow into an archive of the nearly 6,000 films I've reviewed to date. Because everything old is news again, each posting will include a note connecting these particular movie memories to the here and now.

And, yes, I intend Reeling Back to offer new material, including web-log commentary, reviews of current pop culture and additions to my own "works in progress" — four book-length projects still in the notebook phase.

From Will Shakespeare to Marshall McLuhan to Joss Whedon, the great thinkers have all reminded us that we live in a world of wonders. In this small corner of cyberspace, I'd like to share some of the wonders that I have seen.