front page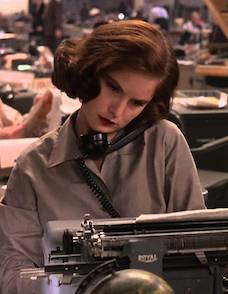 Not a brain in its head
Derivative, design-driven populism
---
The year once known as 2016 ends today (December 31). There are few positive things to say about it, other than "it's over." Tonight's New Year's Eve gatherings will be subdued, reflecting moods that are less celebratory than stunned, a kind of PTSD group therapy. Even so, the traditional sentiment — out with the old, in with the new — remains ever hopeful. At midnight, we'll all hit that annual reset button, and wish loved ones a "Happy New Year." Someone will sing Auld Lang Syne, (whatever that means) and someone else will remember a movie with a year-end setting. Because filmmakers really love to party, there are dozens to choose among. A picture may begin with a New Year's Eve celebration that goes catastrophically wrong (The Poseidon Adventure, 1972). A scene key to unfolding of the plot may be set on a New Year's Eve (The Godfather, Part II , 1974), or the entire action may unfold over the evening (Ocean's 11, 1960). More usual, though, is the big, satisfying climax that coincides with ringing in the new year (When Harry Met Sally, 1989; Ghostbusters II , (1989); While You Were Sleeping, (1995). That was the choice made by the Coen brothers when they crafted the ending for their fifth feature, a period corporate comedy called The Hudsucker Proxy

← FULL SITE INDEX

local news

Winter warfare fantasy

Snow queen commands ice palace

---

Canada's sesquicentennial celebration continues today (January 15) at Vancouver's Pacific Cinémathèque with a free, Cinema Sunday matinee screening of The Dog Who Stopped the War, the English-language version of the 1984 family feature La guerre des tuques





comics page

Looking out for the land

Wacky fantasy promotes core values

---

Born on this day (January 12) in 1960, Windsor, Ontario native Oliver Platt offers solid ecological advice as a member of America's original superhero team. Under the direction of Jeremiah Chechik, he plays Paul Bunyan in 1995's Tall Tale: The Unbelievable Adventures of Pecos Bill





entertainment

Creative women needed

Contributing to entertainment's cause

---

Born on this day (January 8) in 1942, actress Yvette Mimieux visited Vancouver in 1974 to play a starring role in Journey into Fear. During an interview, she lamented the lack of strong roles for women in film and discussed her coming debut as a television screenwriter.





editorials

A drink to the living

My Blog; Your Guide to What's New

---

Among the journalists working overtime hours during 2016 were the obituary writers. Necrologies dominated the year-end coverage and many a New Year's Eve gathering included a longer than usual toast to the dead. Personally, I prefer to celebrate the golden agers still with us.




Byline
REVIEWING CITIZEN WALSH
A DECLARATION OF PRINCIPLES
---
Reelingback.com
is the Internet address of
Michael Walsh
, a Canadian living in Vancouver, British Columbia.
I spent my working life as a newspaperman. While others covered the waterfront, I specialized in movies. As a film critic, I published my views in newspapers and magazines, on radio and television, at conferences, conventions and in the occasional courtroom. It was my good fortune to cover 30 of the most exciting, innovative years in screen history (1965-1995).
Retired, but not inactive, I've launched Reeling Back in in order to recall and, perhaps, make sense of it all. Eventually, it will grow into an archive of the nearly 6,000 films I've reviewed to date. Because everything old is news again, each posting will include a note connecting these particular movie memories to the here and now.

And, yes, I intend Reeling Back to offer new material, including web-log commentary, reviews of current pop culture and additions to my own "works in progress" — four book-length projects still in the notebook phase.

From Will Shakespeare to Marshall McLuhan to Joss Whedon, the great thinkers have all reminded us that we live in a world of wonders. In this small corner of cyberspace, I'd like to share some of the wonders that I have seen.