front page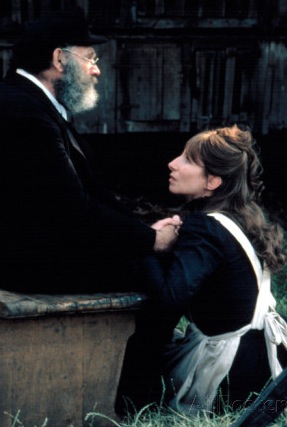 Papa, Can You Hear Me?
Diva-director's debut a charming oddity
---
A woman's fight is never won. Or so it must have seemed to listeners tuned into CBC Radio's The Current last Friday (April 17). In an interview with Brooklyn-born writer Elana Sztokman, program host Piya Chattopadhyay discussed a September 2014 incident that delayed the departure of an El Al Israel Airlines flight from New York to Tel Aviv for some 20 minutes. An ultra-Orthodox Jewish male refused his seat assignment next to her because she was a woman. It's an issue that is on the increase for the airline, as Sztokman, author of The War on Women in Israel: How Religious Radicalism is Stifling the Voice of a Nation, discovered when she went public about her experience. At the same time, in Saudi Arabia, two women were being held in detention for defying that nation's ban on females driving motor vehicles. In late December, according to an Associated Press dispatch, Loujain al-Hathloul, 25, and Maysa al-Amoudi, 33, were referred to a special court in Riyadh established to try terrorism cases. (In early February, the BBC reported that the women had been freed, speculating that their release was connected to a meeting Britain's Prince Charles had with the desert monarchy's new King Salman.) The attitudes involved in both cases would be familiar to feminist filmmaker Barbra Streisand. Born on this day (April 24) in 1942, Streisand made her directorial debut with the story of a woman who dares to be herself, 1983's Yentl.

← previous articles

local news

Subtlety is frozen out

Adventure lacks leaven of humour

---

Born on this day (April 19) in 1921 in Australia's island state of Tasmania, Don Sharp spent his entire directorial career in the British Isles. The one exception was an action epic that was the most expensive Canadian film ever made at the time of its release, 1979's Bear Island.





comics page

Beware labelled villains

Artless animated ad for TV cartoons

---

Born on this day (April 23) in 1930, Alan Oppenheimer has been putting words in the mouths of cartoon characters for some 40 years. As the voice of the villainous Skeletor, he menaced Mattel's boy toy-inspired He-Man, and his girl toy sister SheRa in the 1985 cartoon feature The Secret of the Sword.





entertainment

Hollywood Northerners

Spotting Tinseltown's Torontonians

---

Incorporated on this day (March 6) in 1834, the City of Toronto eventually became the place to be from for generations of performers with big-screen ambitions. Test your knowledge of those Canadians who found fame in Hollywood with Reeling Back's Queen City Players quiz.





classified

The case for curationism

My Blog; Your Guide to What's New

---

The moment was epiphanic. Until I heard Stephen Quinn's radio interview with Toronto-based author and art critic David Balzer, I'd thought of myself as a mere scribe posting his scribblings to the web. Today, I realize that I'm something more — I'm a curator.




Editorial
REVIEWING CITIZEN WALSH
A DECLARATION OF PRINCIPLES
---
Reelingback.com
is the Internet address of
Michael Walsh
, a Canadian living in Vancouver, British Columbia.
I spent my working life as a newspaperman. While others covered the waterfront, I specialized in movies. As a film critic, I published my views in newspapers and magazines, on radio and television, at conferences, conventions and in the occasional courtroom. It was my good fortune to cover 30 of the most exciting, innovative years in screen history (1965-1995).
Retired, but not inactive, I've launched Reeling Back in in order to recall and, perhaps, make sense of it all. Eventually, it will grow into an archive of the nearly 6,000 films I've reviewed to date. Because everything old is news again, each posting will include a note connecting these particular movie memories to the here and now.

And, yes, I intend Reeling Back to offer new material, including web-log commentary, reviews of current pop culture and additions to my own "works in progress" — four book-length projects still in the notebook phase.

From Will Shakespeare to Marshall McLuhan to Joss Whedon, the great thinkers have all reminded us that we live in a world of wonders. In this small corner of cyberspace, I'd like to share some of the wonders that I have seen.