front page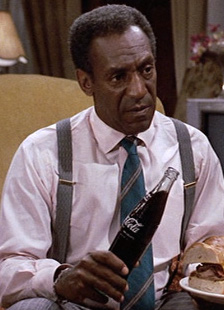 His service not so secret
Little fun to be found in spycraft satire
---
History's file on Bill Cosby, born on this day (July 12) in 1937, contains before and after photos. The "after" image is a mug shot, representing the fact that he is currently serving a prison sentence of up to ten years for "aggravated indecent assault." His 2018 conviction, called a watershed moment for the #MeToo movement, represents justice for one among some 60 women who came forth to accuse the entertainer of sexual abuse. Forever in its shadow will be our "before" picture of Cosby, the successful stand-up comic, actor, author and positive inspiration to black youth. As the first African-American to co-star on a prime-time TV series — opposite Robert Culp in 1965's I Spy — he brought about change. He became beloved for his work promoting family values on The Cosby Show (1984-92), where he played Cliff Huxtable, rated "greatest TV dad" in a TV Guide poll. A prominent advocate for education, he held about 70 honorary degrees prior to his fall from grace. And, of course, he was a movie star, often working with his friend Sidney Poitier. The five films being added today to the Reeling Back archive (with links to each following the Afterword to this posting) include director Paul Weiland's evocation of Cosby's I Spy days, the 1987 espionage comedy Leonard Part 6.

← FULL SITE INDEX

local news

Wedded to an evil bitch

Damned until death does them part

---




comics page

Many happy returns

Never too old for a seashore shindig

---




entertainment

More than a good year

Looking forward to the best memories

---




editorials

Plans set, goals met

My Blog; Your Guide to What's New

---



Byline
REVIEWING CITIZEN WALSH
A DECLARATION OF PRINCIPLES
---
Reelingback.com
is the Internet address of
Michael Walsh
, a Canadian living in Vancouver, British Columbia.
I spent my working life as a newspaperman. While others covered the waterfront, I specialized in movies. As a film critic, I published my views in newspapers and magazines, on radio and television, at conferences, conventions and in the occasional courtroom. It was my good fortune to cover 30 of the most exciting, innovative years in screen history (1965-1995).
Retired, but not inactive, I've launched Reeling Back in in order to recall and, perhaps, make sense of it all. Eventually, it will grow into an archive of the nearly 6,000 films I've reviewed to date. Because everything old is news again, each posting will include a note connecting these particular movie memories to the here and now.

And, yes, I intend Reeling Back to offer new material, including web-log commentary, reviews of current pop culture and additions to my own "works in progress" — four book-length projects still in the notebook phase.

From Will Shakespeare to Marshall McLuhan to Joss Whedon, the great thinkers have all reminded us that we live in a world of wonders. In this small corner of cyberspace, I'd like to share some of the wonders that I have seen.