front page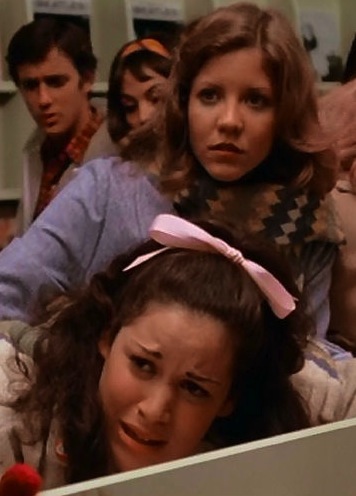 Along for a fab ride
Director's debut recalls really big shew
---
I like to think that there is something of Eugene Allen in the character of Anne Lewis. I'm partial to father-daughter stories and Nancy Allen, the actress who brought Officer Lewis to life in the original RoboCop movie, is the daughter of a Yonkers, New York, police lieutenant. Although she's not spoken of it in any of the interviews I've read, it stands to reason that she drew upon her own lived experience. Allen was part of a new generation of performing talent favoured by Hollywood's "movie brat" directors such as Steven Spielberg, George Lucas and Brian De Palma. She made her big screen breakthrough in De Palma's 1976 adaptation of Stephen King's Carrie and was featured in Spielberg's 1979 epic comedy 1941. She became De Palma's leading lady in real life — they were married from 1979 to 1984 — and in his next three features. She was outstanding in Paul Verhoeven's 1987 RoboCop, and played the Lewis role in the 1990 and 1993 sequels. In 2001, Allen became involved with the weSPARK Cancer Support Center in Sherman Oaks, California, a care facility founded by her lifelong friend Wendie Jo Sperber. Following Sperber's death in 2005, Allen increased her involvement, becoming the organization's full-time executive director in 2010. Born on this day (June 24) in 1950, Allen first met Sperber when they starred together in debuting director Robert Zemeckis's 1978 Beatlemania classic, I Wanna Hold Your Hand.

← FULL SITE INDEX

local news

Rivalry on the high seas

Script fails to answer basic questions

---

One of the hardest-working Hollywood TV directors of the 1970s, George McCowan regularly returned to Canada, where a movie industry was emerging. Born on this day (June 27) in 1927, McCowan was in B.C. in 1973 to film a tale of rival fishermen, The Inbreaker.





comics page

Time for an overhaul!

Comic triumph has comic-book roots

---

Independent publisher Mike Richardson founded Dark Horse Comics as a West Coast alternative to corporate creators Marvel and DC. Born on this day (June 29) in 1950, Richardson guided many of his titles to the big screen, scoring his first major hit with the 1994 comics comedy, The Mask.





entertainment

Coming of age on screen

Transition to adult roles no easy task

---

In Vancouver in 1974 for the world premiere of The Inbreaker, a B.C.-made film in which he played the title role, Johnny Crawford discussed life as a child star in U.S. television's "golden age," growing up through five seasons of The Rifleman and finally turning 30.





editorials

For your consideration

My Blog; Your Guide to What's New

---

In 2014, the Canadian Science Fiction and Fantasy Association (CSFFA) established a Hall of Fame to recognize long-term service to the genre. Last Monday (June 29), I nominated filmmaker David Cronenberg as someone who deserves the honour.




Byline
REVIEWING CITIZEN WALSH
A DECLARATION OF PRINCIPLES
---
Reelingback.com
is the Internet address of
Michael Walsh
, a Canadian living in Vancouver, British Columbia.
I spent my working life as a newspaperman. While others covered the waterfront, I specialized in movies. As a film critic, I published my views in newspapers and magazines, on radio and television, at conferences, conventions and in the occasional courtroom. It was my good fortune to cover 30 of the most exciting, innovative years in screen history (1965-1995).
Retired, but not inactive, I've launched Reeling Back in in order to recall and, perhaps, make sense of it all. Eventually, it will grow into an archive of the nearly 6,000 films I've reviewed to date. Because everything old is news again, each posting will include a note connecting these particular movie memories to the here and now.

And, yes, I intend Reeling Back to offer new material, including web-log commentary, reviews of current pop culture and additions to my own "works in progress" — four book-length projects still in the notebook phase.

From Will Shakespeare to Marshall McLuhan to Joss Whedon, the great thinkers have all reminded us that we live in a world of wonders. In this small corner of cyberspace, I'd like to share some of the wonders that I have seen.