front page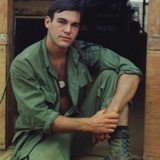 Doing the right thing
Generation messed up fighting wrong war
---
Socially aware and politically engaged, Vietnam veteran-turned-flmmaker Oliver Stone is one cool dude. Born on this day (September 15) in 1946, Citizen Stone remains the Boom Generation's Boomer, a man of conviction who refuses to stand down and accept the dominant historical narrative. He made his reputation with films that challenged the official "truth" on such subjects as Salvador (1986), Wall Street (1987) and Talk Radio (1988). He courted controversy with his presidential "counter-myths" in JFK (1991), Nixon (1995) and W. (2008). Though out of favour in the new, corporate Hollywood, Stone continues to speak out on the issues of the day (he supports embattled WikiLeaks founder Julian Assange and opposes the growth of the U.S. military presence overseas). In what he calls "the most ambitious thing I've ever done," he co-wrote, produced, directed and narrated the 10-episode Showtime documentary Oliver Stone's Untold History of the United States (2012). Released on DVD in March (with two additional episodes), the series channels that combination of angry skepticism and investigative journalism that characterized the best of the 1960s counter-culture. If the new series draws upon a lifetime of learning, it was foreshadowed as early as 1986, the year that Stone drew upon his own experience as in an infantryman in Vietnam to tell the story of a Platoon.

← previous articles

local news

Far Northern Mythfires

Native magic lost in melodramatics

---

Because she grew up on Vancouver Island, we think of Jennifer Tilly (and her sister Meg) as Canadian. Born on this day (September 16) in 1958 in California, she made her first Canadian feature, Shadow of the Wolf (1992), in Quebec.





comics page

Jungle girl no film queen

Three-step plan guaranteed failure

---

The first female character featured in her own comic book, Sheena, Queen of the Jungle made her American debut in September, 1938. A movie adaptation — 1984's Sheena — was a long time coming, and fell far short her success on the printed page.





entertainment

The Queen in question

Wearing crowns, wielding power

---

Today (September 7) is the Queen's birthday — Queen Elizabeth I, that is — and to celebrate the 1533 arrival of Anne Boleyn's daughter, Reeling Back offers a quiz to test your knowledge of those Canadians who have played history's Lords and Lovers in the movies.





classified

Kittens on the Internet

My Blog; Your Guide to What's New

---

While I realize that there are many more important issues — threats to world peace, the plight of the environment and the growing possibility of a global pandemic — I find myself haunted by the question of why small felines are everywhere in cyberspace.




Editorial
REVIEWING CITIZEN WALSH
A DECLARATION OF PRINCIPLES
---
Reelingback.com
is the Internet address of
Michael Walsh
, a Canadian living in Vancouver, British Columbia.
I spent my working life as a newspaperman. While others covered the waterfront, I specialized in movies. As a film critic, I published my views in newspapers and magazines, on radio and television, at conferences, conventions and in the occasional courtroom. It was my good fortune to cover 30 of the most exciting, innovative years in screen history (1965-1995).
Retired, but not inactive, I've launched Reeling Back in in order to recall and, perhaps, make sense of it all. Eventually, it will grow into an archive of the nearly 6,000 films I've reviewed to date. Because everything old is news again, each posting will include a note connecting these particular movie memories to the here and now.

And, yes, I intend Reeling Back to offer new material, including web-log commentary, reviews of current pop culture and additions to my own "works in progress" — four book-length projects still in the notebook phase.

From Will Shakespeare to Marshall McLuhan to Joss Whedon, the great thinkers have all reminded us that we live in a world of wonders. In this small corner of cyberspace, I'd like to share some of the wonders that I have seen.