front page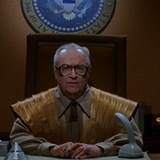 Presidential parody
Anthology short on really big laughs
---
Forrest James Ackerman, born on this day (November 24) in 1916, did not invent science-fiction fandom. What the native Los Angelino did do, though, is play a major role in popularizing the genre at a time when it was still a marginal entertainment form. In the process, he lived his passion, turning fandom into his profession. Although Ackerman was a celebrity — the man who became famous for being a fan — he was less interested in personal aggrandizement than in sharing his enthusiasms and promoting their creators. He was friends with most of the writers working in the genre, and amassed a personal library of about 300,000 books, plus items of movie memorabilia, all of which he shared with fellow fans in his home-turned-museum. Often credited with coining the abbreviation "sci-fi," he supported his collecting habit by working as a literary agent and magazine editor. He's best remembered for Famous Monsters of Filmland (1958-1983), a celebration of classic horror movies that ran for 27 years and 191 issues. Less known was his Spacemen (1961-65), a magazine that ran just eight issues, but focused on his first love, SF movies. The moviemakers returned the love, often creating cameo roles for him in their pictures. Though most of his appearances were in low-budget exploitation features, Ackerman had his share of A-list moments, including one playing the President of the United States in the team-directed 1987 comedy Amazon Women on the Moon.

← previous articles

local news

Our Feature Film Fest: 4

Documenting reality

---

In Part 4 of a 20-part series, Reeling Back continues The Greater Vancouver Book's Feature Film Festival, with restored notes on the four features in the program called Documentary.





comics page

Cat in tune with times

Comix with a deranged Disney look

---

Though the artists did not see eye to eye on the result, adult animation pioneer Ralph Bakshi, born on this day (October 29) in 1938, made cartoon history with his feature adaptation of underground comics pioneer Robert Crumb's most famous character, Fritz the Cat (1972).





entertainment

Quality key to competing

Planning for future of feature films

---

During interviews conducted in 1975 and 1976, Oscar-winning producer F.R. "Budge" Crawley shared with me his views on feature filmmaking in Canada, a rentals-tax plan to encourage quality productions and the "good light" in Vancouver.





classified

Pipe dream a nightmare

My Blog; Your Guide to What's New

---

Less than two weeks have passed since the U.S. and Chinese Presidents shook hands on a "major milestone" agreement to limit greenhouse gas emissions. Today (November 25), British Columbians are risking arrest on Burnaby Mountain to protest a controversial pipeline project.




Editorial
REVIEWING CITIZEN WALSH
A DECLARATION OF PRINCIPLES
---
Reelingback.com
is the Internet address of
Michael Walsh
, a Canadian living in Vancouver, British Columbia.
I spent my working life as a newspaperman. While others covered the waterfront, I specialized in movies. As a film critic, I published my views in newspapers and magazines, on radio and television, at conferences, conventions and in the occasional courtroom. It was my good fortune to cover 30 of the most exciting, innovative years in screen history (1965-1995).
Retired, but not inactive, I've launched Reeling Back in in order to recall and, perhaps, make sense of it all. Eventually, it will grow into an archive of the nearly 6,000 films I've reviewed to date. Because everything old is news again, each posting will include a note connecting these particular movie memories to the here and now.

And, yes, I intend Reeling Back to offer new material, including web-log commentary, reviews of current pop culture and additions to my own "works in progress" — four book-length projects still in the notebook phase.

From Will Shakespeare to Marshall McLuhan to Joss Whedon, the great thinkers have all reminded us that we live in a world of wonders. In this small corner of cyberspace, I'd like to share some of the wonders that I have seen.