front page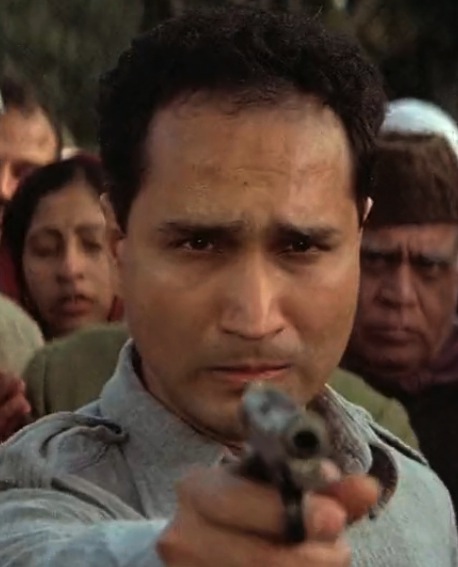 Targeting true greatness
Revolution brought about by example
---
History, according to one theory, is made by great men. Its course, for better or worse, can be altered in an instant by any man. That's the essence of the message that the spirit of John Wilkes Booth conveys to a suicidal Lee Harvey Oswald in Stephen Sondheim's provocative 1990 musical, Assassins. "And all you have to do is squeeze your little finger . . ." Booth croons. "You can change the world." On this day (January 30) in 1948, Hindu nationalist Nathuram Godse changed his world by murdering the internationally revered Mahatma Gandhi. Though tried, convicted and executed for his crime, he remains a hero among a sufficient number of Indians to be the subject of a new movie, Desh Bhakt Nathuram Godse (Patriot Nathuram Godse), a documentary aimed at rehabilitating the assassin's reputation at a time of increased nationalism in the world's largest democracy. (Though scheduled for release today, a civil suit has been filed to ban the film from reaching the screen.) To date, Godse has been portrayed in three fictional features. In 1963, just seven months before the assassination of John Kennedy, audiences were offered Nine Hours to Rama, an Anglo-American co-production in which Horst Buchholtz offered a humanized portrait of Godse. In 2000, a Hindi/Tamil-language crime thriller called Hey Ram (Oh, god) treated his story with sufficient taste for it to be submitted by India's government for consideration by the Oscar selection committee for a foreign-language picture nomination. Godse's moment is relived most memorably in the opening scene of director Richard Attenborough's classic historical biography, 1982's Gandhi.

← previous articles

local news

City's secret identity

Script a minute short of hard-boiled

---

Born in Vancouver on this day (January 24) in 1946, Michael Ontkean grew up in Toronto, where his career options included professional hockey. He chose acting instead and, on a visit to his old home town, played a Mounted Policeman named McKenzie in the 1989 spy thriller Cold Front.





comics page

Superhero in a slump

First love lost in comic mess

---

On this day (January 16) in 1939, nine months after his debut in Action Comics #1, mild-mannered reporter Clark Kent first appeared as the hero of a newspaper comic strip. Five years after his feature film debut, Kent returned to Smallville for a high school reunion in 1983's Superman III.





entertainment

Praising Godfrey Daniels

Four volumes recall a unique rye wit

---

Born on this day (January 29) in 1880, bulbous-nosed comedian W.C. Fields was the subject of a small publishing boom in the early 1970s. Titles added to the shelf were A Flask of Fields, Drat, The Art of W.C. Fields and his mistress's memoir, W.C. Fields and Me.





classified

Television's family ties

My Blog; Your Guide to What's New

---

Part of the pleasure in following a favourite TV series is identifying the underlying themes in the storytelling. For example, father-daughter relationships are a major driving force in classy British soap opera Downton Abbey, while strong moms are central to horror-fantasy cop show Grimm.




Editorial
REVIEWING CITIZEN WALSH
A DECLARATION OF PRINCIPLES
---
Reelingback.com
is the Internet address of
Michael Walsh
, a Canadian living in Vancouver, British Columbia.
I spent my working life as a newspaperman. While others covered the waterfront, I specialized in movies. As a film critic, I published my views in newspapers and magazines, on radio and television, at conferences, conventions and in the occasional courtroom. It was my good fortune to cover 30 of the most exciting, innovative years in screen history (1965-1995).
Retired, but not inactive, I've launched Reeling Back in in order to recall and, perhaps, make sense of it all. Eventually, it will grow into an archive of the nearly 6,000 films I've reviewed to date. Because everything old is news again, each posting will include a note connecting these particular movie memories to the here and now.

And, yes, I intend Reeling Back to offer new material, including web-log commentary, reviews of current pop culture and additions to my own "works in progress" — four book-length projects still in the notebook phase.

From Will Shakespeare to Marshall McLuhan to Joss Whedon, the great thinkers have all reminded us that we live in a world of wonders. In this small corner of cyberspace, I'd like to share some of the wonders that I have seen.