front page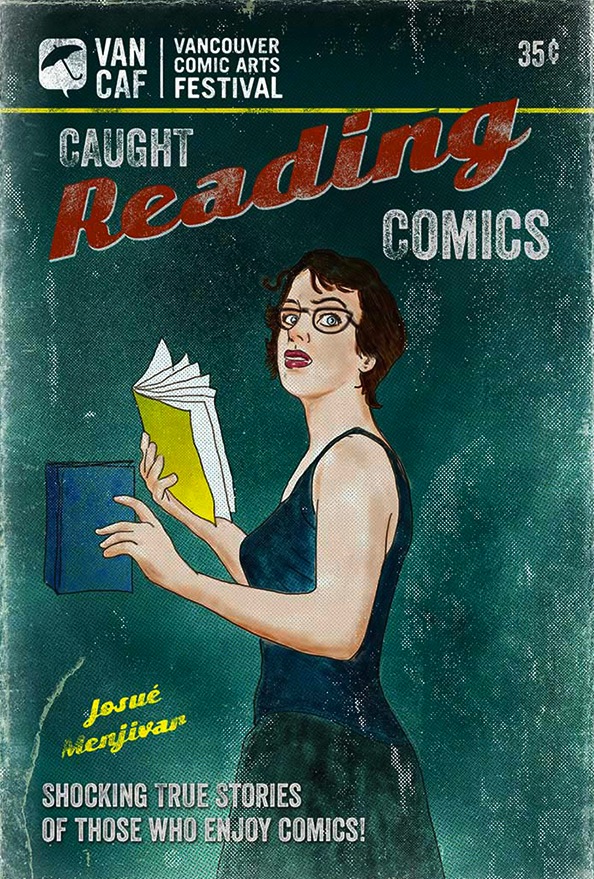 Comics not just for kids
VanCAF celebrates once and future art
---
Last year, I was one among the 8,000 who attended the third annual Vancouver Comic Arts Festival in late May. A two-day celebration of graphic creativity, it was organized by the Vancouver Comic Arts Association, a group of volunteers led by eloquent comics advocate Shannon Campbell. I'm embarrassed to admit that I learned about it late — and via the most low-tech of media: a poster on a telephone pole. This year, though, I'm in plenty of time to note the 2015 edition, taking place tomorrow (May 23) and Sunday at the Roundhouse Community Arts and Recreation Centre in Yaletown. VanCAF is the brainchild of Campbell, an Oxford university grad whose day job(s) include writing, editing and teaching. She is also the president and chairperson of the VanCAA, a non-profit that "exists for the sole purpose of connecting local artists with the Vancouver community." Its stated mission is "to provide the West Coast with an artist-oriented, free-to-attend community event." In addition to exploring the exhibition hall and meeting the artists, visitors are invited to attend readings, panels and workshops. Authentic in ways that such uber-commercial events as FanExpo can never be, VanCAF is in a direct line of descent from Canada's first comics art exhibition, celebrated some 49 years ago. The illustration on this page (created by Josué Menjivar) perfectly captures the feeling of defence and defiance reflected in COM-EX, the 1966 coming-out party for adult "comicollectors" held on the campus of the University of Toronto.

← previous articles

local news

Viewing from a distance

Historic moment melds sex, politics

---

On this day (May 8) in 1938, Adolf Hitler paid a call on his Italian neighbour Benito Mussolini. Director Ettore Scola uses der Führer's Roman holiday as background for this 1977 Italo-Canadian feature, the story of romance blossoming in the Eternal City on A Special Day.





comics page

Cross-over dreaming

Holli is adult animator's goodbye girl

---

Born on this day (May 12) in 1950, Irish actor Gabriel Byrne made some of his oddest movies during visits to the United States. Topping his list of eccentric roles is underground comic artist Jack Deeb, creator of "doodle" Holli Would in Ralph Bakshi's final feature, 1992's Cool World.





entertainment

Stripped from comics

Back pages providing screen scenes

---

Opening today (May 23), the 2015 edition of the Vancouver Comic Arts Festival (VanCAF) celebrates the cultural influence of graphic story-telling. What better time to test your knowledge of comics that have inspired filmmakers with a classic Strips to Screen quiz?





classified

Canadian content coming

My Blog; Your Guide to What's New

---

In the aftermath of 2015's Canadian Film Day, it occurred to me that I really had no precise notion of how many made-in-Canada features I've reviewed over the years. To get some idea of what lies ahead for Reeling Back, I decided to go through my paper files, page by page . . .




Editorial
REVIEWING CITIZEN WALSH
A DECLARATION OF PRINCIPLES
---
Reelingback.com
is the Internet address of
Michael Walsh
, a Canadian living in Vancouver, British Columbia.
I spent my working life as a newspaperman. While others covered the waterfront, I specialized in movies. As a film critic, I published my views in newspapers and magazines, on radio and television, at conferences, conventions and in the occasional courtroom. It was my good fortune to cover 30 of the most exciting, innovative years in screen history (1965-1995).
Retired, but not inactive, I've launched Reeling Back in in order to recall and, perhaps, make sense of it all. Eventually, it will grow into an archive of the nearly 6,000 films I've reviewed to date. Because everything old is news again, each posting will include a note connecting these particular movie memories to the here and now.

And, yes, I intend Reeling Back to offer new material, including web-log commentary, reviews of current pop culture and additions to my own "works in progress" — four book-length projects still in the notebook phase.

From Will Shakespeare to Marshall McLuhan to Joss Whedon, the great thinkers have all reminded us that we live in a world of wonders. In this small corner of cyberspace, I'd like to share some of the wonders that I have seen.