front page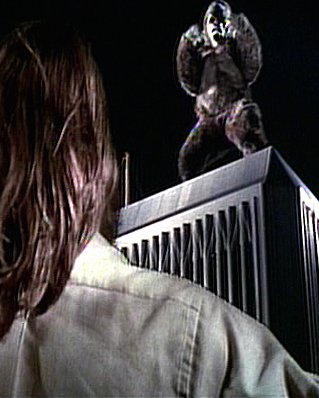 Return less than regal
No magic in Manhattan monkeyshines
---
In their search for extreme attractions, moviemakers have gone from A (for apes) to Z (zombies). Today (March 10), with the North American release of Kong: Skull Island, we're back to A. The current reboot, Variety reviewer Owen Gleiberman tells us, is set in 1973, "just as Watergate is heating up and the Vietnam War is winding down." That juicy tidbit leaves the door ajar for a discussion of primates and politics, inviting us to recall that, during his pre-presidential acting career, Ronald Reagan played second banana to a chimpanzee, the title character in 1951's Bedtime for Bonzo. I'll resist that temptation, because I know that Hollywood's fascination with our evolutionary relatives goes back much further. It was Edgar Rice Burroughs's 1912 novel Tarzan of the Apes (first adapted to the screen in 1918) that suggested that great apes made fine nannies for orphaned English aristocrats. There have been more than 50 jungle lord movies in the years since, including the 2016 mega-budget feature The Legend of Tarzan. During the Cold War, Pierre Boulle's 1963 novel Planet of the Apes (first adapted to the screen in 1968) suggested that primates other than man would inherit the Earth. The franchise that followed has produced eight features to date, with a ninth — War for the Planet of the Apes — due in July. In 1976, thanks to director John Guillermin, New York received a second visit from King Kong.

← FULL SITE INDEX

local news

Breaking News

Turning a true story into pulp fiction

---

No stranger to mean streets, Elias Koteas is currently seen as Det. Alvin Olinsky on NBC-TV's ensemble cop show Chicago P.D.. Born on this day (March 11) in 1961, Koteas broke through to stardom playing the title role in director Roger Cardinal's 1988 action drama Malarek.





comics page

Who just said beep-beep?

Western action bears the Acme brand

---

Before settling into the director's chair, Hal Needham established his performing bona fides as a Hollywood stuntman. Born on this day (March 6) in 1931, Needham later threw a cartoon-themed party for his friends and colleagues, one he shared in the 1979 feature The Villain.





entertainment

Something like real life

Falling into a career of fun and games

---

With his third feature scheduled for release, director Hal Needham sat down with me for an interview. Born on this day (March 6) in 1931, the former stuntman chatted about his concern for safety, friendship with Burt Reynolds, and his 1979 film, The Villain.





editorials

An historic footnote

My Blog; Your Guide to What's New

---

For more than 40 years, artists, authors and pop culture historians have been inspired by the compelling dystopian visions of science-fiction icon Philip K. Dick. Some of his biographers go so far as to include my momentary walk-on role in the tumultuous tale that was his life.




Byline
REVIEWING CITIZEN WALSH
A DECLARATION OF PRINCIPLES
---
Reelingback.com
is the Internet address of
Michael Walsh
, a Canadian living in Vancouver, British Columbia.
I spent my working life as a newspaperman. While others covered the waterfront, I specialized in movies. As a film critic, I published my views in newspapers and magazines, on radio and television, at conferences, conventions and in the occasional courtroom. It was my good fortune to cover 30 of the most exciting, innovative years in screen history (1965-1995).
Retired, but not inactive, I've launched Reeling Back in in order to recall and, perhaps, make sense of it all. Eventually, it will grow into an archive of the nearly 6,000 films I've reviewed to date. Because everything old is news again, each posting will include a note connecting these particular movie memories to the here and now.

And, yes, I intend Reeling Back to offer new material, including web-log commentary, reviews of current pop culture and additions to my own "works in progress" — four book-length projects still in the notebook phase.

From Will Shakespeare to Marshall McLuhan to Joss Whedon, the great thinkers have all reminded us that we live in a world of wonders. In this small corner of cyberspace, I'd like to share some of the wonders that I have seen.