front page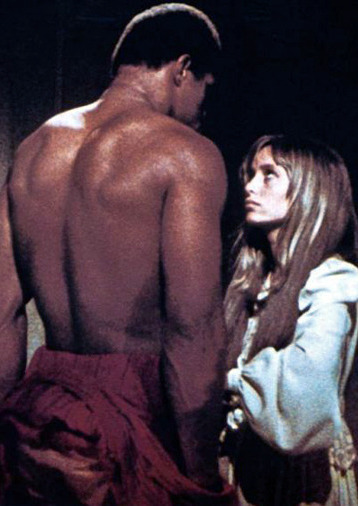 Bad taste & bare bosoms
The enduring fever dream of white privilege
---
Acquitted yesterday (November 19) of all charges following his August, 2020 killing spree in Kenosha, Wisconsin, Kyle Rittenhouse has become an icon to America's gun-crazed white supremacists. The fact that he's getting away with murder can only deepen the social divide in the U.S. Sadly, the demented runt never had a chance. His very name doomed him to infamy. Those of his own generation — born January 3, 2003, he belongs to the millennium-straddling "Gen Z" — will recognize Rittenhouse as the evil secret society bent on world domination in the 2016-18 sci-fi TV series Timeless. Founded in 1778 by revolutionary-era polymath David Rittenhouse, it is the show's big bad, with adherents that include time-travelling assassins. Baby Boomers are more likely to hear in the teen gunman's name an echo of Kyle Onstott, the midcentury author of such "big bold novels" as Mandingo (1957) and Drum (1962). Not one to question his own white privilege, the Illinois-born Onstott drew upon the racialist attitudes of his day to create a "slavesploitation" genre, plantation porn set on a "human breeding farm" called Falconhurst in ante-bellum Alabama. The best-selling series grew to include 15 titles, and spawned two feature films for fans of bad taste and bare bosoms. The first was director Richard Fleischer's 1975 adaptation of Mandingo.

← FULL SITE INDEX

local news

Pork roast gone wrong

Monster mania trumps serious issues

---




comics page

Domestic readjustments

Recycling ideas a decade out of date

---




entertainment

Crusading to open doors

Modern journalists argue for the truth

---




editorials

It's not a joke, son!

My Blog; Your Guide to What's New

---



Byline
REVIEWING CITIZEN WALSH
A DECLARATION OF PRINCIPLES
---
Reelingback.com
is the Internet address of
Michael Walsh
, a Canadian living in Vancouver, British Columbia.
I spent my working life as a newspaperman. While others covered the waterfront, I specialized in movies. As a film critic, I published my views in newspapers and magazines, on radio and television, at conferences, conventions and in the occasional courtroom. It was my good fortune to cover 30 of the most exciting, innovative years in screen history (1965-1995).
Retired, but not inactive, I've launched Reeling Back in in order to recall and, perhaps, make sense of it all. Eventually, it will grow into an archive of the nearly 6,000 films I've reviewed to date. Because everything old is news again, each posting will include a note connecting these particular movie memories to the here and now.

And, yes, I intend Reeling Back to offer new material, including web-log commentary, reviews of current pop culture and additions to my own "works in progress" — four book-length projects still in the notebook phase.

From Will Shakespeare to Marshall McLuhan to Joss Whedon, the great thinkers have all reminded us that we live in a world of wonders. In this small corner of cyberspace, I'd like to share some of the wonders that I have seen.