front page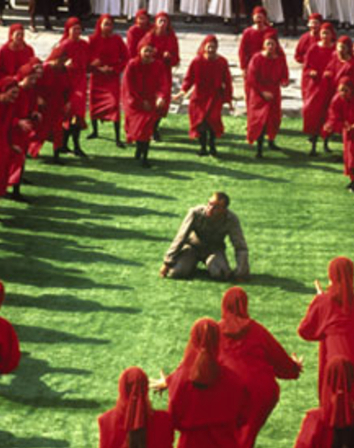 Beware Gilead's wrath
Cinematic dystopia a disappoinment
---
On this day (February 19) in 2007, Canada decided to do the Time Warp again. Six years after shutting down due to federal budget cuts, ParticipACTION was back in business. Originally founded in 1971 as a non-profit private company promoting physical fitness, the initiative became a government agency in 1972. For 30 years, it fought what it called "the inactivity crisis," mounting a series of advertising campaigns designed to inspire, goad, chivvy or shame citizens into more active lifestyles. In 1973, its TV spots told us that "the average 30-year-old Canadian is in about the same physical shape as the average 60-year-old Swede," (a claim debunked in a 1990 Globe and Mail report). Brought back to life in 2007, it sharpened its focus to "kids 12 and under, as well as at-risk groups like seniors, aboriginals and the disabled." In a 2011 brief to Parliament, ParticipACTION described itself as "a Canadian icon" that "uses mass media to raise awareness and change social norms on physical activity." Critics of the agency note that it is little more than a funding mechanism for niche market advertising that has made little or no difference to bettering public health. Perhaps that's why author Margaret Atwood decided to play upon the name in creating the "particicution" ceremony, a shaming ritual acted out in director Volker Schlöndorff's 1990 adaptation of her novel, The Handmaid's Tale.

← FULL SITE INDEX

local news

North of the border noir

Recalling Toronto the Less-than-Good

---

After a half-century-long career in supporting roles, Kim Coates found stardom as biker "Tig" on TV's Sons of Anarchy. Born on this day (February 21) in 1958, Coates made his first feature-film impression in director Martin Lavut's 1988 neo-noir feature Palais Royale.





comics page

Sweet take on prehistory

Family values as old as the dinosaurs

---

So far in her career, the multi-talented Helen Shaver has been successful as a big screen actress and TV director. Born on this day (February 24) in 1951, she includes among her film credits a voice performance in director Don Bluth's 1988 cartoon feature The Land Before Time.





entertainment

Conflagration chronicle

Celebrating a fearless few's courage

---

On this day (February 23) in 1991, retreating Iraqi forces committed an historic act of arson. The fight to put out the blaze, an action that international firefighters called "Operation Desert Hell," was recorded by director David Douglas in his documentary Fires of Kuwait.





editorials

An historic footnote

My Blog; Your Guide to What's New

---

For more than 40 years, artists, authors and pop culture historians have been inspired by the compelling dystopian visions of science-fiction icon Philip K. Dick. Some of his biographers go so far as to include my momentary walk-on role in the tumultuous tale that was his life.




Byline
REVIEWING CITIZEN WALSH
A DECLARATION OF PRINCIPLES
---
Reelingback.com
is the Internet address of
Michael Walsh
, a Canadian living in Vancouver, British Columbia.
I spent my working life as a newspaperman. While others covered the waterfront, I specialized in movies. As a film critic, I published my views in newspapers and magazines, on radio and television, at conferences, conventions and in the occasional courtroom. It was my good fortune to cover 30 of the most exciting, innovative years in screen history (1965-1995).
Retired, but not inactive, I've launched Reeling Back in in order to recall and, perhaps, make sense of it all. Eventually, it will grow into an archive of the nearly 6,000 films I've reviewed to date. Because everything old is news again, each posting will include a note connecting these particular movie memories to the here and now.

And, yes, I intend Reeling Back to offer new material, including web-log commentary, reviews of current pop culture and additions to my own "works in progress" — four book-length projects still in the notebook phase.

From Will Shakespeare to Marshall McLuhan to Joss Whedon, the great thinkers have all reminded us that we live in a world of wonders. In this small corner of cyberspace, I'd like to share some of the wonders that I have seen.